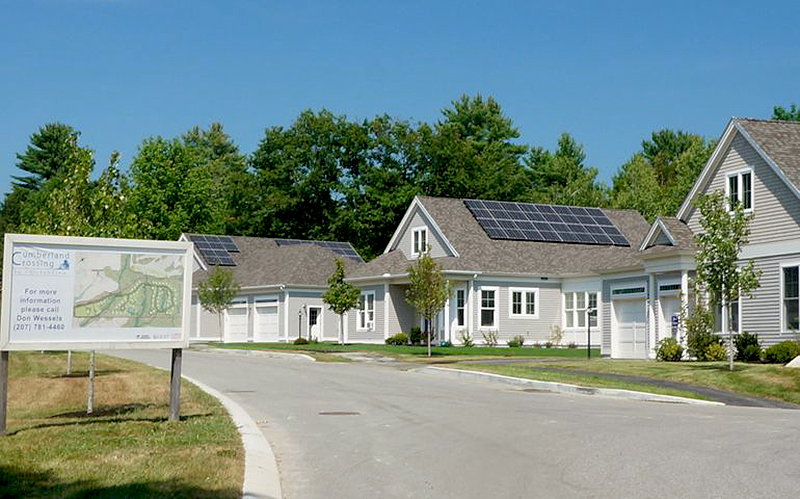 PHOTO / MAUREEN MILLIKEN
The first phase of Cumberland Crossing by OceanView, a 55-and-over project is well underway, with 20 houses built and another 33 about to start.
By Maureen Milliken – Mainebiz
When Cumberland Crossing by OceanView, a 53-unit housing development on Tuttle Road in Cumberland, was first planned, target customers were active baby boomers looking to downsize.
Now, with 15 houses completed, 95% spoken for and the next building phase about to begin, a new element has been added to the customer base — coronavirus-rattled urban dwellers from away who want to flee congested areas.
"We have individuals coming up from New Jersey, Massachusetts, Connecticut," said Don Wessels, sales associate for Cumberland Crossing. "They feel like they might want to take that leap."
The stories of those fleeing urban congestion for Maine have grown over the summer, and while anecdotal, it's definitely happening, said Wessels and Gloria Walker, marketing and sales director for Cumberland Crossing by OceanView.
"People are looking to get out of the cities," Wessels said. The proximity of Portland, with its restaurants and cultural draws, and access to the Maine coast and other outdoor attractions create a lot of appeal for those looking to move.
"It's the best of both worlds," Walker added. "It's so close to Portland, but it feels like the country." And there's also the element of community that such a development provides, she said.
Marketing has taken a turn to take advantage of the new get-out-of-the-city urgency. Cumberland Crossing has been advertised in newspapers like the Boston Globe, Philadelphia Inquirer and Wall Street Journal, something OceanView hasn't done before, Walker said.
Wessels said the Wall Street Journal ads, in particular, have been fruitful. "It's yielded quite a few leads from people looking to get out of the congested areas," he said.
While business in general is picking up, though, "there's still a hesitancy to come and see it in person," Wessels said. "Folks are a little circumspect."
Like many brokers, OceanView is using 3D virtual tours, socially distant appointments and other means to show the homes to prospective residents.
Walker said the company is going by the rules set forth by the state, but now that more out-of-staters can come without having to quarantine or get a negative test, business is picking up. She said, too, more people are better able to get tested. "And everyone's gotten a little more used to it, it seems."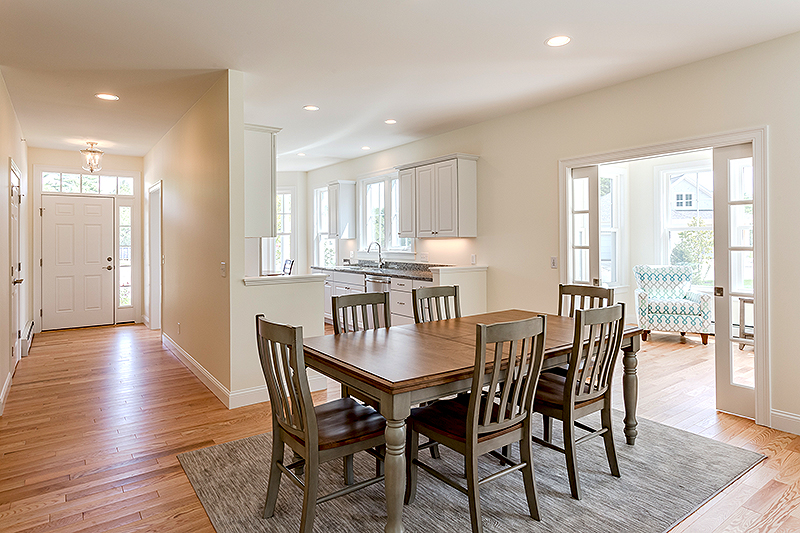 COURTESY / OCEANVIEW
Cumberland Crossing houses are customized for owners, with a choice of two floor plans.
'Maintenance-free living'
Cumberland Crossing, on 37 acres of former farmland west of U.S. Route 1, is meant to complement OceanView at Falmouth, the 265-unit senior house and apartment development five miles away, both owned by Sea Coast Management. Residents of the Cumberland site can use the amenities at the Falmouth complex, including a pool, fitness studio, programs and activities and more.
But the Cumberland site also has plenty to offer. It's in between Val Halla golf course and the sprawling Twin Brook Recreation Center and across Tuttle Road from the town forest. It's also within walking distance of town hall and Cumberland Center, a quick drive to Exit 15 on Interstate 295 and two miles from the ocean. Much of the site is remaining open space, with walking trails that connect to the recreation area and golf course.
Walker said the typical residents are younger boomer couples, possibly with one spouse still working, who are active and looking for "maintenance-free living."
The 1,600-square-foot houses are not sold, but residents pay a lifetime tenancy fee, similar in cost to the cost of a home, that's 100% refundable if they move out. The prices of the houses, depending on customization, are in the low to mid-$600,000s and are paid in a sequence of deposits during the construction phase, Walker said. The median price for a single-family home in Cumberland last year was $480,000, according to the Maine Real Estate Information System.
The Cumberland Crossing fee pays for maintenance, including an emergency service, landscaping, snow removal, housekeeping, security service, a registered nurse wellness service and 24-hour emergency response in every house. Build-out on a house can take from eight months to more than a year, depending on the customization.
General contractors are True North Builders, of Scarborough, and Hildreth & White, of Portland. Gawron Turgeon Architects, of Scarborough, is the architect.
The houses all have solar panels, efficient cooling and heating and a full-service generator. There are two floor plans to choose from; both include a four-season sunroom, two bathrooms and an attached garage. Residents can add solar water, solar generator, a second bay for the attached garage and a loft with additional bathroom.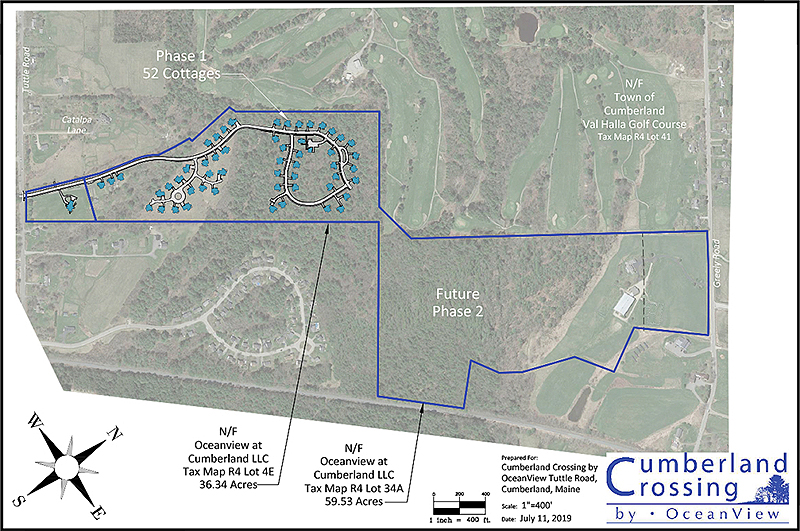 COURTESY / OCEANVIEW
The first phase of Cumberland Crossing by OceanView is partially completed, with a second phase planned for adjacent land.
More to come
The project broke ground in late 2018, a collaboration between Sea Coast Management owner and founder, John Wasileski, and his son, Chris Wasileski, director of development at Sea Coast, which developed and owns the OceanView properties. The 53 homes now built, or about to be, are officially phases 1A and 1B. Phase 1B is expected to build out within the next couple years, Walker said.
There are also plans for 52 more houses in Phase 2, on adjacent land. That land includes a house that would stay and become a community center for the development, Walker said. The start of that phase is contingent on the progress of 1B, she said.
The project is one of many over the past several years for Sea Coast. OceanView at Falmouth has expanded in stages over the years, with the addition of a 24-unit memory care center in 2014, and 10 more apartments on the 80-acre site last fall. In December of 2017, Sea Coast completed a $6.5 million historic renovation of Plummer School, at the edge of its Falmouth property, for senior independent living.