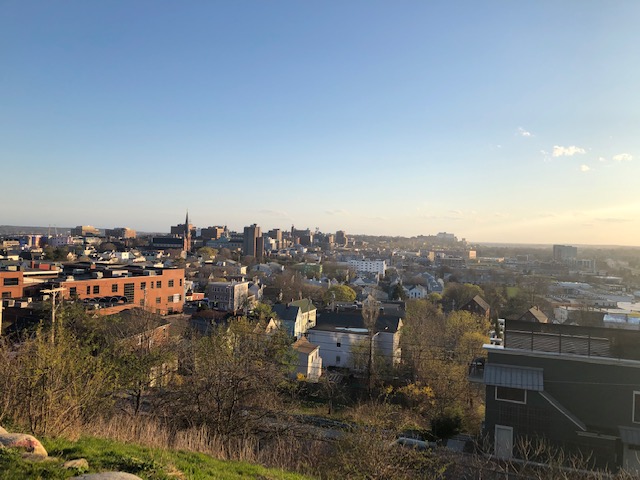 With limitations still in place due to social distancing, finding activities that are safe and healthy can require some creativity. While you may not be able to check out museums or go out to dinner, there is so much you can do in Portland – all on foot! Walking is an excellent way to get some fresh air, exercise and enjoy all the city has to offer. Below, we've put together a quick walking guide to Portland, Maine, complete with some of our favorite stops. Portland is only 12 miles from our active senior living community, Cumberland Crossing by OceanView!
Admire the Historical West End
Portland's West End Promenade is like stepping back in history, with glorious brick Victorian mansions lining the blocks, with the oldest dating back to 1799. Many of these homes are occupied today, serving as multiple-unit apartments and single family homes alike. As you make your way through each neighborhood admiring the architecture of centuries past, keep an eye out for the plaques placed on the homes that signify who owned them and when they were built. 
Tip: If you're enjoying the historical aspect of the West End, be sure to check out the Western Cemetery while you're in the neighborhood. This beautiful property is Portland's second oldest cemetery, established in the 18th century.
Explore the Wharf
Downtown Portland is typically a bustling area, with lots of foot traffic, especially as tourist season begins to pick up. Since that is on hold for the time being, now is a great time to enjoy the wharf without the traffic or crowds. Enjoy the breeze as you take your time exploring each dock, watch the seals play in the still waters of the coves, and relish the fresh, salty sea air.
Relax at the Eastern Promenade
Portland's Eastern Promenade offers a breathtaking view of the Casco Bay and the surrounding islands. There are rolling grassy hills surrounding this part of the peninsula, so you'll have ample space to stretch out and get comfortable. Trust us – there is no better spot for a relaxing afternoon in the city!
Order Takeout from Your Favorite Restaurant
Although going out to a sit-down meal is still not yet in the cards, you don't have to miss out on meals from your favorite Portland restaurants! Nearly every establishment in the city is offering curbside pick-up for take-out. Whether you have a favorite dish that you keep coming back for or have wanted to try something new, now is the best time to support your local restaurants. Perhaps even order a meal to enjoy picnic-style as you take in the views from the Eastern Prom!
Walk the Boulevard
Portland's Back Cove Boulevard Trail is one of the oldest, most popular trails in Portland…and for very good reason! This is possibly the best view of the Portland skyline you'll get in the city. A flat loop trail of about 3.6 miles, Back Cove is ideal for walking, running, biking; it's handicap-accessible and dog-friendly, too!
With social distancing regulations still in place, it's more important than ever to make the effort to get outside, enjoy nature and keep busy. From Cumberland Crossing by OceanView, it is a quick and easy drive to explore this beautiful coastal city!
https://www.cumberlandcrossingrc.com/wp-content/uploads/2020/05/image0-1.jpeg
480
640
Callie Walker
https://www.cumberlandcrossingrc.com/wp-content/uploads/2021/05/cumberland-300x116.png
Callie Walker
2020-05-20 12:00:02
2020-05-21 12:29:06
Best Walking Guide for Portland, Maine