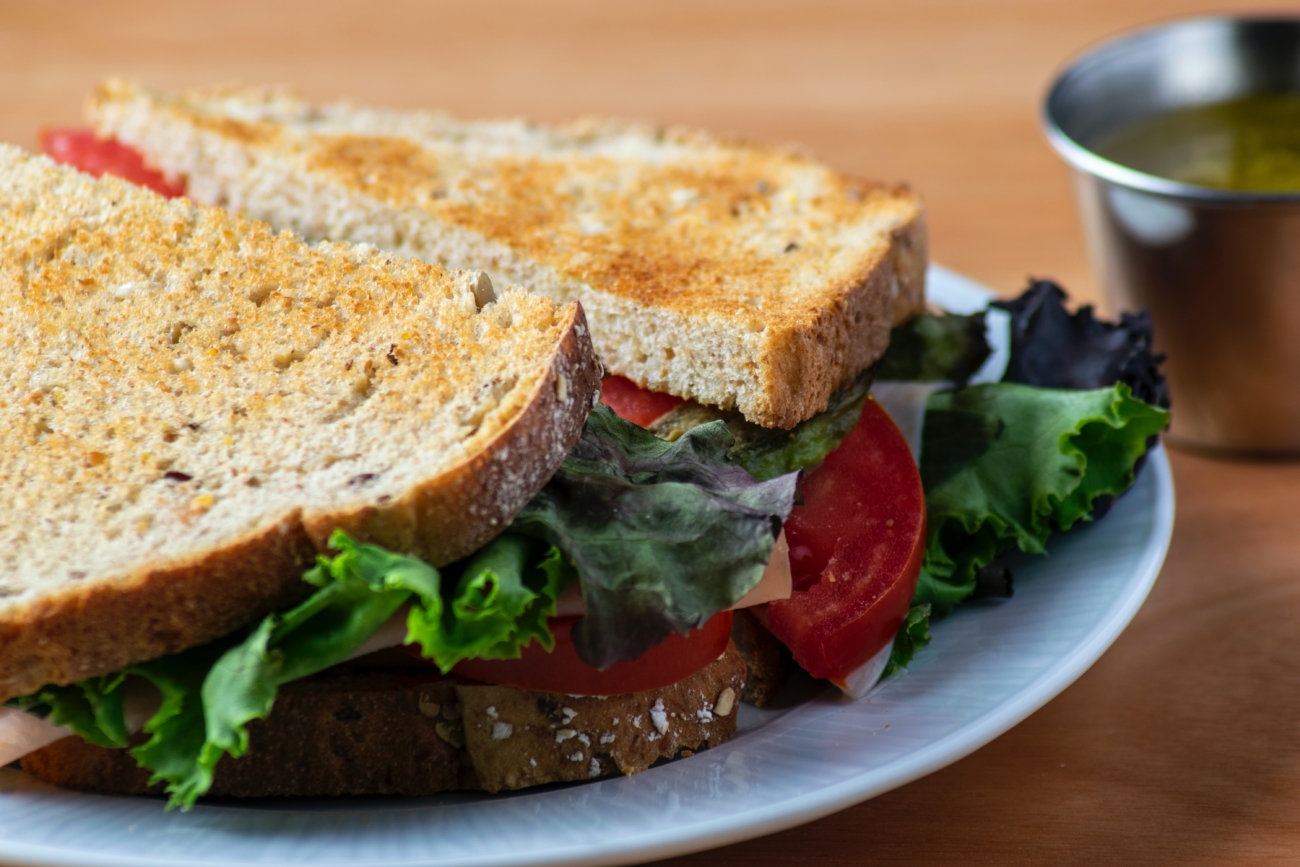 Is there anything more satisfying than a high-quality, well-made sandwich? We don't think so! Portland, Maine is notorious for its incredible culinary scene, and the sandwiches in town definitely meet that standard! Breakfast and lunch, vegetarian and seafood – we've included everything you should try the next time you're visiting. Keep reading for some of the best sandwiches Portland, Maine has to offer!
The Sandwich: Ham Italian
The Restaurant: Amato's
There is nothing more Maine than a classic ham italian from Amato's. To out-of-staters, who often consider an italian sub to be more similar to a grinder, they are shocked to find missing the deli meats, hot pepper relish and lettuce that usually adorn a sub. Trust us, you won't miss them with flavors like this sandwich has.
It's got thinly sliced ham and American cheese, chopped white onions, sliced green peppers, fresh tomatoes, kalamata olives, puckery Amatos pickles and is topped with salt, pepper and oil. The daily-made soft white sub rolls are the cherry on top! Maine Italians tend to get very messy, but it's worth it!
The Sandwich: The Egg & Pickle
The Restaurant: Tandem Coffee + Bakery
Tandem Coffee + Bakery has become well-known in Portland, not only for having some of the best coffees in town, but also for their delectable bites! They serve breakfast sandwiches, pies, buns and other sweet treats, but arguably the best item on the menu is their unique egg and pickle sandwich. Tucked between fresh focaccia you'll get a taste explosion with sliced eggs, pickled beets, creamy mayonnaise and herbs. Unusual but incredibly delicious!
The Sandwich: The Peacemaker
The Restaurant: Po'Boys & Pickles
Po'Boys & Pickles has shot to fame in recent years as one of the best sandwich shops in Portland, perhaps even in Maine. Dishing out authentic southern po'boys with a New England twist, this busy shop is a must. A classic po'boy, especially with fried seafood, can be hard to get right, but they nail it every time!
Try the Peacemaker, which includes both fried oysters and fried shrimp, fresh lettuce and tomato, and red pepper mayo. Stuffed into a soft white rub roll and served with a side of pickles, this is a taste explosion that will have you coming back!
The Sandwich: The Grasshopper
The Restaurant: Dutch's
Dutch's is run by a husband and wife duo who really know their sandwiches. You can't go wrong with anything on their breakfast or lunch menus, but if you're looking for a mouthwatering vegetarian option, then the Grasshopper is the sandwich for you! Grilled halloumi is the star of this show, in addition to fresh cucumbers, carrots, roasted red pepper hummus and sprouts on toasted white bread.
The Sandwich: Turkey Gouda Breakfast Sandwich
The Restaurant: Ohno Café
Ohno Café is a tiny but mighty restaurant tucked away in the West End of Portland, popular for their breakfast sandwiches, served all day. Once you try one, you'll understand why! They have a number of different options that come on fresh bagels, the combinations of which will make your mouth water. 
Every sandwich here is amazing, but our favorite is the #2, which includes a thick stack of smoked turkey, ripe avocado, tomatoes and smoked gouda on your choice of a bagel. 
The Sandwich: The Sweet & Salty
The Restaurant: PB & ME
If you're lucky enough to catch this food truck, don't miss out on one of the best sweet and salty sandwiches you've had since childhood! The PB + ME food truck specializes in old school comfort food. They, of course, have peanut butter sandwiches with a variety of toppings, as well as grilled cheeses, burgers and hot dogs. Today, we're focusing on a peanut butter-based sandwich: the Sweet & Salty.
This sandwich's ingredients, smeared on toasted white bread, includes peanut butter, Nutella, pretzels and sea salt for a crunch, salty and sweet combination. If you're in the mood for something unique for a little pick me up, be sure to order this next time you see them!
Cumberland Crossing by OceanView
Cumberland Crossing by OceanView is an active retirement community, located just a few miles from Portland! Take the stress out of retirement, worrying about homeownership, property taxes and maintenance, and spend more time doing what you love. 
We offer two solar-powered cottage floor plans with customizable interiors layouts. In addition to an inclusive monthly maintenance option and 100% refundable entrance fee, you can truly relax and enjoy your retirement! To learn more about Cumberland Crossing, please contact us today!
https://www.cumberlandcrossingrc.com/wp-content/uploads/2021/06/omar-lezama-hernandez-MZeWPaom1w-unsplash-1300x867-1.jpg
867
1300
Steven Brandsdorfer
https://www.cumberlandcrossingrc.com/wp-content/uploads/2021/05/cumberland-300x116.png
Steven Brandsdorfer
2021-06-03 22:54:46
2023-06-13 14:16:07
6 Best Sandwiches Portland Maine Has to Offer