Welcome to a world away.
Cumberland Crossing by OceanView at Falmouth
Custom-designed cottage living just off the Maine coast.
Picture life in a tranquil glen between the mountains and the sea, just minutes from the cosmopolitan charms of a coastal city. Picture living in a green-designed cottage home built to your specifications. Now surround it with friendly neighbors and all the benefits, amenities and care offerings of a full-service retirement community.
Here's where it all comes together. Cumberland Crossing by OceanView in Cumberland, Maine.
"We liked the beauty, the rural feel, the closeness to a small city, the setting of the cottages, the layout of the neighborhood and the overall charm of the community."
D.B., Resident
Things to do, places to go
and time
to make it happen.
Between the natural beauty of our setting, the comfort of your cottage, and the proximity of OceanView, with its remarkable recreational and social programs and amenities—all free and accessible to Cumberland Crossing residents—you may have to remind yourself to relax and enjoy the view.
Maintenance-free living with 100% refundable entrance fee
Two spacious, customized floor plans with many options and a flexible construction timeframe
Convenient location near Cumberland Center and adjacent to Twin Brook Recreation Facility, a 250-acre park

Easy access

to OceanView at Falmouth (just 5 miles away) and its superlative dining, fitness, enrichment, social and cultural programs and amenities

4-season heated saltwater pool and new, 4,000 sq. ft. state-of-the-art Hager Fitness Pavilion
Concierge van service and frequent excursions in Maine and beyond
Fitness classes, movies, lectures & dining options
Classical, jazz, country, folk and international music performances
Parties, dances, welcoming teas and celebrations year 'round

Network of walking, hiking, snow shoeing and cross-country ski trails
Golf Fore Life Program – complimentary access to:

Adjacent 18-hole Val Halla Golf Course & Recreation Center
Falmouth Country Club

Solar-powered, environmentally friendly and ecologically responsible – "green living" at its finest!
"There is no end to the variety of things to do."
N.S., Resident
Reserve Your Lot.
Select Your Plan.
Design Your Dream.
"A" Floor Plan – Model Home Tour
Featuring gracious contemporary design, premium builder-grade materials and green design standards throughout, cottages at Cumberland Crossing are fully customizable and built to last. We stand proudly behind the quality of our homes and with maintenance included, residents can enjoy living life in a customized cottage without the work, worry or expense of maintaining it.
Two energy efficient cottage floor plans with the ability to customize
Both floor plans offer two spacious bedrooms, a great room with gas fireplace, two full baths, 4-season sunroom, fully-applianced kitchen, laundry and attached garage with storage
Standard customization options include granite countertops, stainless appliances and hardwood floors
Standard solar – photovoltaic electricity
Standard full-service generator
Other options:

Loft with bedroom, bath and open to below living space
2-car garage or widened driveway
Solar hot water
Solar generator
Some sites allow for walk-out basements
Watch a time-lapse video showing the construction of our beautiful, 75-foot, heated salt water pool.
"We chose Cumberland Crossing because we wanted the independence of living in our own individual cottage."
B.H., Resident
---
SITE MAP
Lifestyle Services
Full-time interior and exterior maintenance, PLUS emergency maintenance staff, on-call 24/7.
Landscaping, lawn and garden care
Snow removal, shoveling, salt/sanding
Housekeeping monthly
24-hour Emergency Medical Response System in every cottage
"I can't speak highly enough about the people who take care of us."
M.C., Resident
Healthcare Services
Residents at Cumberland Crossing have the benefit of access to an onsite wellness office with a Registered Nurse and a complimentary annual health review. That office maintains and updates a File of Life for every resident.
Residents also enjoy the assurance of knowing that, should life circumstances change, they will receive priority access to Falmouth House Assisted Living or Legacy Memory Care. Both of these highly rated residential offerings are situated on the OceanView campus, each offers private modern accommodations in a beautiful setting, and are staffed by a team of skilled, experienced and deeply committed caregivers.
More information on Falmouth House
Nature or culture?
Ocean or lake?
It all depends which road you take.
There's a reason why vacationers return to the Maine coast year after year. It's the same reason the whales and seabirds and lobsters do, and it's why we Mainers remain so proud and true to our home state. Here in Cumberland, the air is clear, the forests are unspoiled, and the coast is minutes away. Mountains and lakes are nearby. And the cultural treasures and culinary pleasures of Portland are less than a half-hour by car.
Closer yet are the rustic charms of Cumberland itself with its agricultural history and small-town character.
The Cumberland Crier – The Cumberland Crier is a weekly newsletter distributed  to community members and offers local news and information as well as an email service used in emergency situations for weather alerts, road closures, water main breaks, or health/safety concerns.
The Cumberland Farmers Market – In operation in Cumberland since 1996, The Cumberland Farmers Market provides the community with a high-quality array of locally raised and produced goods.
Cumberland Fair – Sponsored by the Cumberland Farmers Club, this town fair has been in existence for almost 150 years. In addition to traditional agricultural events showcasing the cooking, craft and animal husbandry skills of town residents, the Fair features harness racing on a 1/3-mile clay track.
Cumberland Town Parks include Broad Cove Reserve, Twin Brook Recreation Area, The Town Forest, Rines Forest and Knight's Pond, with combined trails that extend over 10 miles.
Val Halla Golf & Recreation Center – This 18-hole professional course has been recognized as the "Best Municipal Course" in Maine by Golf Digest and the "Best Value in Maine" by the New England Golf Guide. It houses the home of the Maine State Golf Association as well as a full-service restaurant, Rachel's on the Green. The tennis courts are free of charge and open to the public.
Chebeague & Cumberland Land Trust – a non-profit land conservation organization that has conserved nearly 900 acres since 1988. Many of these properties are open to the public for recreation and enjoyment.
---
"Cumberland County has amazing beautiful natural parks, trails, islands.  We love the culture of Portland and the medical facilities are excellent."
S.H., Resident
We would love to tell and show you more about this very special community. If you think cottage living at Cumberland Crossing might be right for you or someone you care about, please don't hesitate to get in touch. Your information will, of course, be kept strictly confidential.
Now taking reservations, call (207) 781-4460
You're not just joining a community;
You're joining a family.
Cumberland Crossing by OceanView is the latest implementation of lessons learned by John Wasileski over a lifetime of designing and developing sustainable retirement living communities with a care continuum.
John began to fulfill his dream with the construction of the Main Lodge and the first twenty OceanView at Falmouth Cottages in 1986. Honoring the natural world and serving the interests of the greater community have always been strong priorities for John: he was awarded the Governor's Award for Business Excellence by Governor Baldacci in 2004, the Environmental Leadership Award from the Institute for Family-Owned Business in 2017 and was recognized at the 2017 eco-Excellence Awards for Business Leadership (top winner).
John later brought the care continuum concept to Topsham, where he established both The Highlands and Highland Green, exceptional communities that offer exceptional recreational and care amenities.
In 2008, John's son, Chris Wasileski, started working with his father, primarily on project management. Bringing a background in Political Science with a focus on Environmental Politics, Energy Policy, and National Security, Chris led the team that received the 2014 MEREDA Notable Project award for the Falmouth Schools Redevelopment project at OceanView. His research and interests have led to a focus on clean energy and energy efficiency.
After over 30 years, this Maine-owned and managed family business has branched out with Cumberland Crossing by OceanView, a satellite community of custom-built, cottages only 5.5 miles north of the main Falmouth campus. Offering green design and priority access to Falmouth House Assisted Living and Legacy Memory Care at OceanView, Cumberland Crossing residents enjoy a beautiful, rural setting at the center of Cumberland, with close proximity to the ocean and the many cultural opportunities of Portland, Maine's largest city.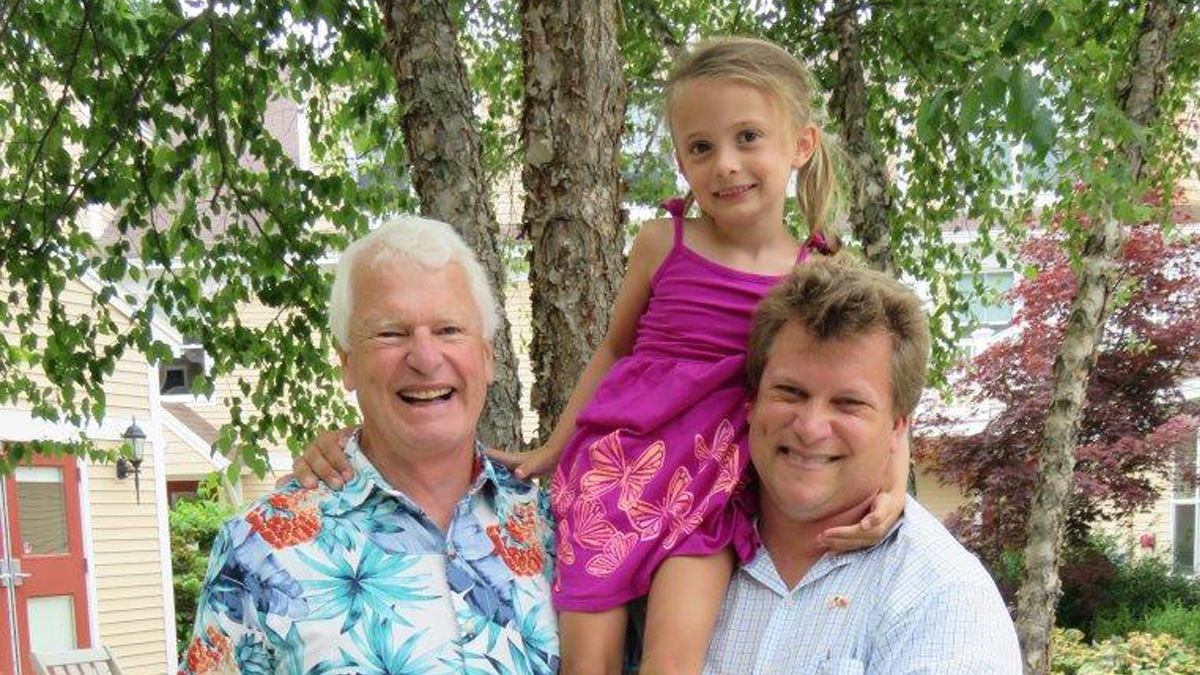 OceanView Owner, John Wasileski, with son Chris and granddaughter Haley.
"Cumberland Crossing is a quality institution run by excellent, honest people."
-S.H., Resident