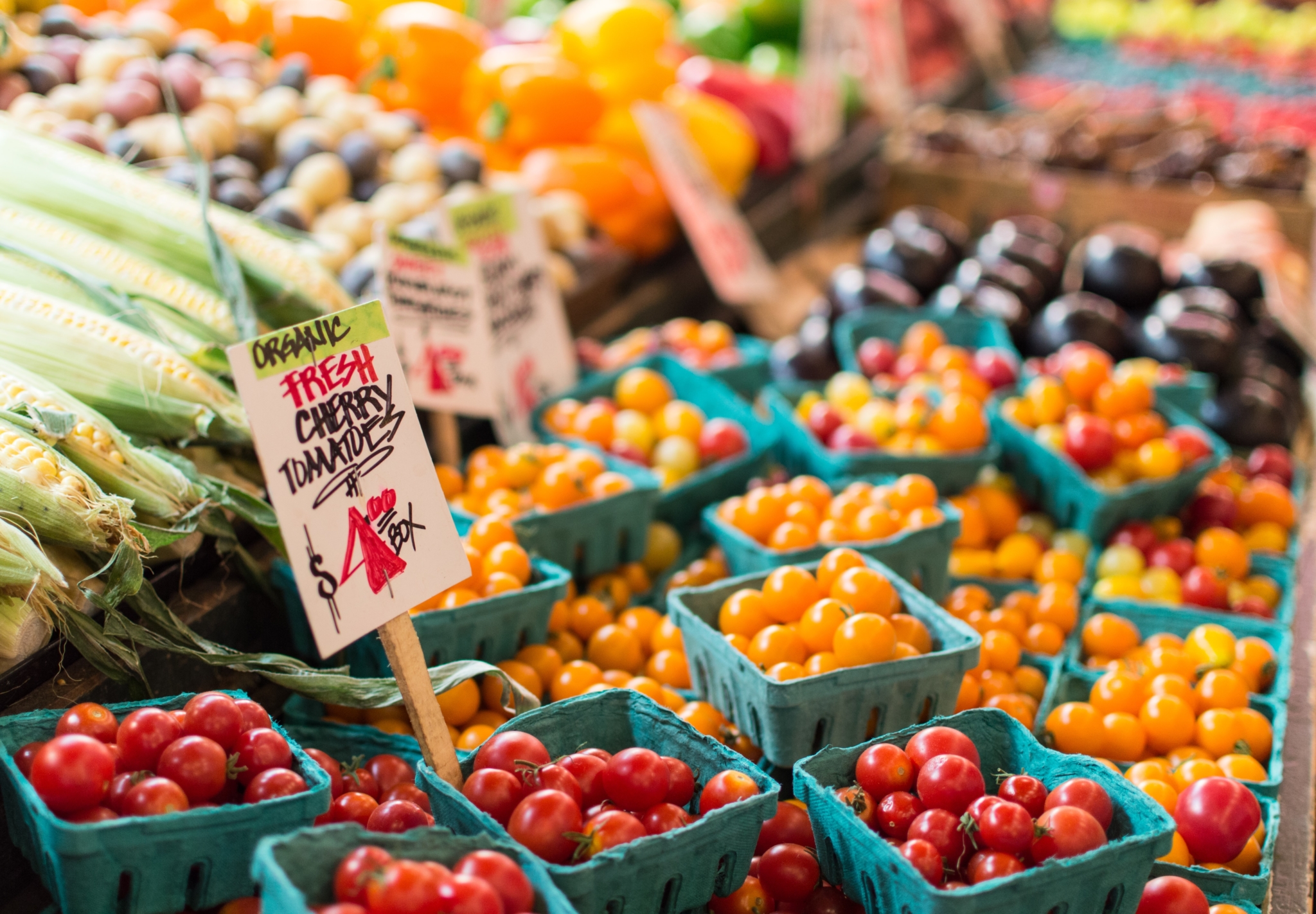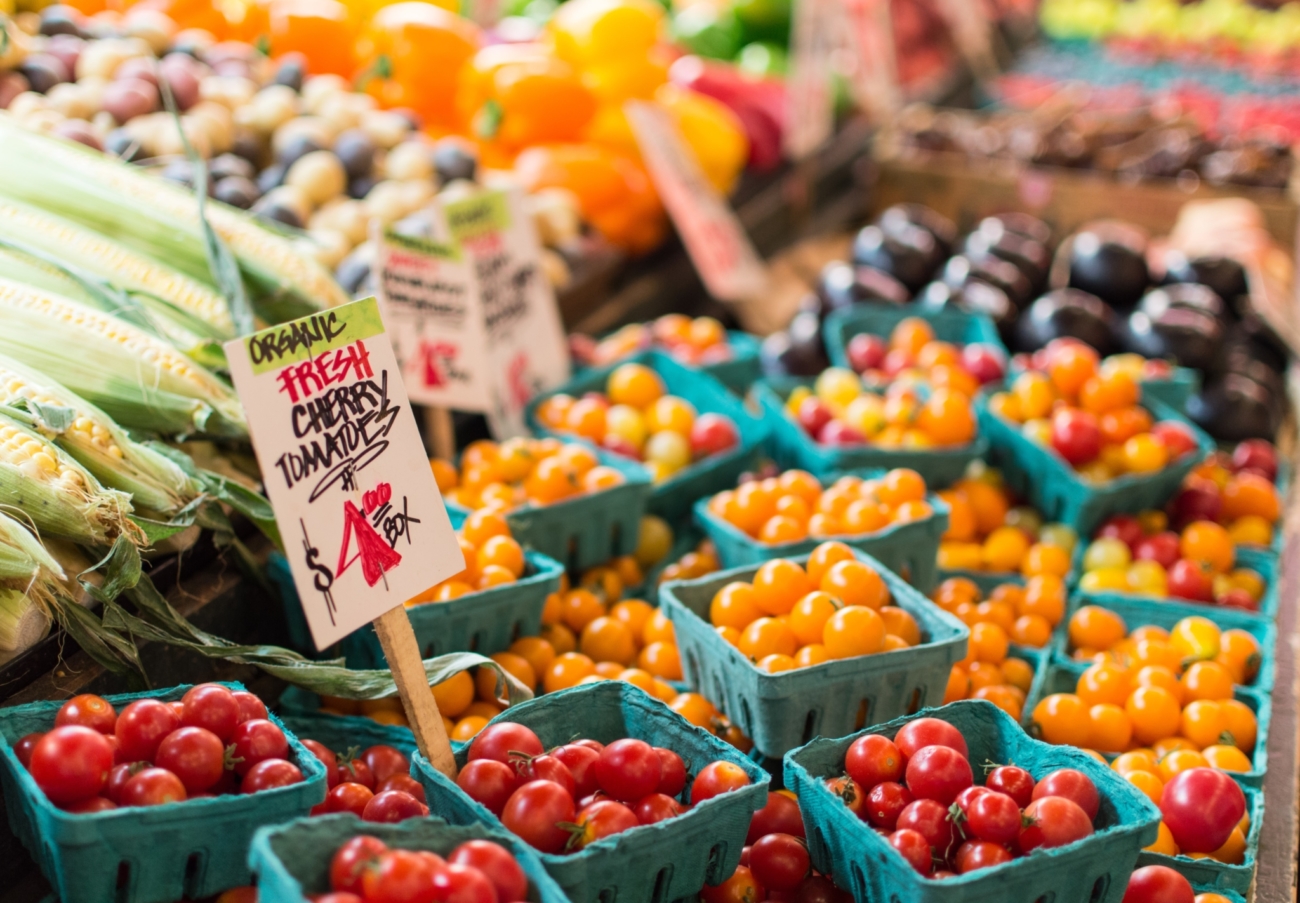 Visiting a farmers' market is an incredible opportunity to spend time in the fresh air, get in some light activity and support your local community. We've previously sung the praises of farmers' markets, and for good reason – it's one of the best parts about summer in Maine! With vendors of all types selling flowers, fresh produce, local meats and cheeses, seafood, honey and much more, you are sure to find everything on your grocery list (and then some!) when you visit these bustling stands. 
Keep reading for some of our best farmers' market shopping tips!
1. Bring Reusable Bags
Bringing your own reusable bags is not only environmentally-friendly, it's easier to carry your purchases! Not all vendors provide bags, but the ones that they do provide are often recycled plastic shopping bags or handle-less paper bags – both of which can be difficult to carry. Bring a canvas tote bag or another sturdy bag with straps that will allow you to be hands free as you navigate each stall. 
2. Opt for Cash
As times change, many vendors are starting to take cards, but that doesn't mean it's preferable. Having cash on hand makes the shopping process much smoother – it also allows you a better opportunity to haggle pricing if you are looking to get a deal. Plus, vendors really appreciate not having to pay the fees associated when someone makes a purchase with a credit card!
3. Go With a Shopping List
There is so much to see when visiting a farmers' market, so it's a good idea to bring a list or general idea of what items you're looking for. That will help keep you on track to buy the goods you know you actually need, then you can fill in any gaps with the delicious treats you find as you wander the stalls!
4. Dress for the Weather
Be sure to check the weather before heading out for the market…and dress accordingly! It's also a good idea to choose sturdy walking shoes, apply sunscreen regularly, and protect yourself with a hat and sunglasses. Don't let the wrong clothing cut your day at the farmers' market short!
5. Plot Your Route Beforehand
Nearly all farmers' markets have a website or Facebook page that you can check for daily updates, a list of the vendors that will be in attendance, and even a map that you can use to plot your route. Not only does this help give you a plan of action for the market stalls you want to visit, it can also help you locate other important details such as the restrooms or parking.
6. Get to Know the Vendors
You'll be amazed at what you learn by spending a few minutes chatting with vendors! They are experts in their field and can give incredible insight into their crop. One of our favorite topics of conversation is how they suggest using their goods! They can best advise on how to prepare, store and cook their produce, how to make flowers live longer, or the most delicious way to use fresh eggs. 
7. Ask for a Sample
Did you know you can taste nearly anything at a farmer's market? Vendors want you to purchase what they're selling and are generally more than happy to give you a little preview before you commit. This is very common practice so don't be afraid to ask!
Local Farmers' Markets in Maine
There are incredible farmers' markets all over Maine to choose from, each with their own flair and unique offerings! A few of our favorite local markets include:
Cumberland Crossing by OceanView
Cumberland Crossing is an active retirement community for the 21st century! Centrally located in stunning Cumberland, Maine, and just a few miles from Portland, our community offers you the best retirement has to offer. With two solar-powered, customizable cottage plans and an inclusive monthly maintenance fee, we take the stress out of homeownership so you can spend your retirement years doing what you love!
To learn more about our community or schedule a showing, please contact us at Cumberland Crossing today!
https://www.cumberlandcrossingrc.com/wp-content/uploads/2021/06/anne-preble-SAPvKo12dQE-unsplash-2048x1422-1.jpeg
1422
2048
Andrew Jones
https://www.cumberlandcrossingrc.com/wp-content/uploads/2021/05/cumberland-300x116.png
Andrew Jones
2021-06-14 18:30:45
2022-08-31 10:30:17
7 Tips for Shopping at Your Local Farmers' Market This Summer