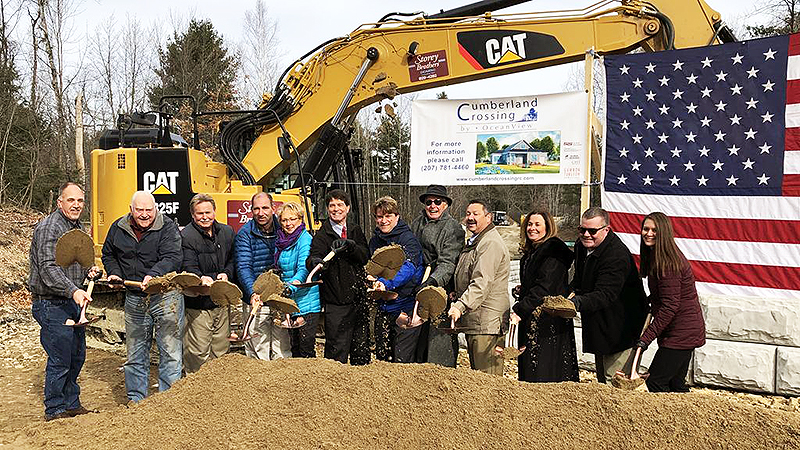 By Alex Lear, The Forecaster
CUMBERLAND — The plunging of golden shovels into a mound of dirt Nov. 15 marked the start of construction of a 53-unit senior housing development off Tuttle Road.
Approved by the Planning Board in August, Cumberland Crossing by OceanView will be built at 277 Tuttle Road, almost directly across the street from Town Hall, and could be complete in three years.
The complex for residents 55 and older will be a sister development to the OceanView at Falmouth retirement community, which John Wasileski developed in 1980.
He and son Chris Wasileski, OceanView's director of development, welcomed the crew gathered on the wintry November morning and praised the local support that has gone into the endeavor.
"You guys are so welcoming; it's such a nice change from some of the other environments that we work in," the younger Wasileski told town staff. "… It's awesome for you guys to recognize what our team does here."
The approximately 37-acre property is composed of parcels OceanView bought from Richard Doane and Laurence Allen, who plan to continue living nearby, Wasileski has said. OceanView is moving Allen's house from 277 Tuttle Road and building him a new home closer to Tuttle Road, Wasileski said.
Cumberland Crossing's main road, Little Acres Drive, is an expansion of Allen's driveway and extends about 1,500 feet from Tuttle Road.
The two-bedroom, pet-friendly cottages will offer four-season sunrooms and gas fireplaces, be equipped with generators and grid-tied solar power, and come with landscaping and garages. The property – to house a community building with a pool – has access to natural gas, and public sewer and water.
About 78 percent of the property will remain open space. Direct access via golf cart or walking path will be available to the neighboring Val Halla Golf & Recreation Center, and trails on the property will provide connectivity between the Town Forest – located across Tuttle Road – to Val Halla.
Similar to the Falmouth development, the Cumberland cottages – which could have a price point of $500,000 and up – would follow a returnable entrance fee model.
"There is a price point set for the cottage … which is 100 percent refundable to the resident, who buys essentially a share in the project," Wasileski said last October. "That is regardless of appreciation or depreciation of the land value."
In other words, the money residents pay to live there will be returned when they leave. Market conditions do not apply.
https://www.cumberlandcrossingrc.com/wp-content/uploads/2018/11/Cumberland-Groundbreaking.jpg
450
800
Andrew Jones
https://www.cumberlandcrossingrc.com/wp-content/uploads/2021/05/cumberland-300x116.png
Andrew Jones
2018-11-19 15:03:44
2023-06-13 13:41:12
Cumberland Senior Housing Project Breaks Ground