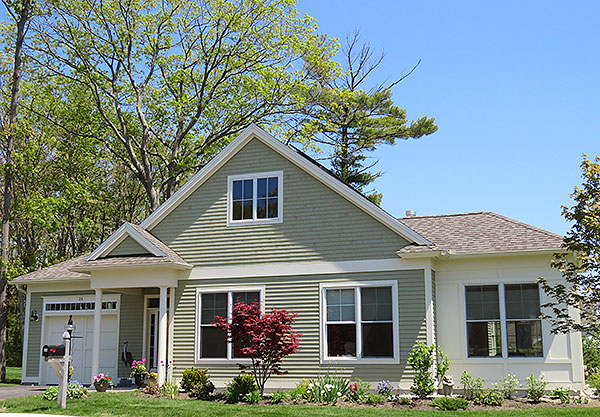 Active adult retirement communities provide a new found sense of freedom, stress reduction and social opportunity, counter to the common misconception that it means losing your independence. In fact, that couldn't be farther from reality – it's truly the opposite! Having a home that fits your lifestyle and is fully maintained so you can focus more on what brings you joy…that is true freedom. Keep reading for 4 tips on making your new cottage your own in a retirement community like Cumberland Crossing by OceanView!
Choose the Right Retirement Community
We listed this first because it's the most important. Deciding on the right retirement community for you is a crucial part of feeling comfortable and happy in your new home! Make sure your new community will meet your lifestyle, includes amenities that fit your needs, and a location that makes sense for you. For example, if you enjoy outdoor recreation such as hiking, biking, or golf, you'll want to live in a community that is close to parks, trails or a golf course, like nearby Twin Brook Recreation Center and Val Halla Golf Course. When you find the right retirement community, you will know!
Get Creative with Home Upgrades
Once you've decided to commit to your new retirement community, the fun really begins! Choosing a site and a cottage layout that best suits your style and needs is the bread and butter of our community, and we understand how important this factor is.
Customization and finishing touches are equally important. Maybe it's a feature you loved in your previous home that you want to incorporate, room for a special piece of furniture, or specific landscaping features. Having this kind of flexibility makes all the difference when moving to a brand-new home within a retirement community like Cumberland Crossing by OceanView.
Get to Know Your Neighbors (and the Staff!)
One of the best advantages of moving into a retirement community? The community itself! There's no better opportunity for socialization than by getting to know your new neighbors. Studies have shown continued health benefits by increased socialization, so continue to grow your inner circle by attending social activities, clubs or exercise classes, (all socially-distanced, of course, during these challenging days of the Coronavirus.)
Getting to know your retirement community's staff is almost as significant as it is to get to know new friends. By developing a friendly rapport with staff, they'll be able to help you plan your move, acclimate to your home and will likely become a valuable part of your retirement journey.
Invite Your Family and Friends Over
Very few things will make your new residence feel like home than having your loved ones come by for a visit. It's understandably common for seniors to use retirement as an opportunity to be closer to their kids, grandkids, and other close family or friends, so if you've taken this into consideration as part of your move, it's an obvious one! Hosting them in your new cottage is the perfect way to bring in that wonderful feeling of home.
Contact Cumberland Crossing by OceanView
Moving into a retirement community is a major decision. While it's an exciting time in a person's life, it's a choice that can take some time to adjust to as you shift in a new direction. Making your new home comfortable and unique to you, making new friends, and keeping your loved ones close will help you settle right into this next, very positive, chapter.
Have questions about moving into a retirement community? Contact our staff at Cumberland Crossing by OceanView today to learn more!
https://www.cumberlandcrossingrc.com/wp-content/uploads/2018/09/cottage_det.jpg
417
600
Callie Walker
https://www.cumberlandcrossingrc.com/wp-content/uploads/2021/05/cumberland-300x116.png
Callie Walker
2020-04-13 11:10:34
2023-06-13 13:58:10
4 Ways to Make Your New Home Yours at Cumberland Crossing