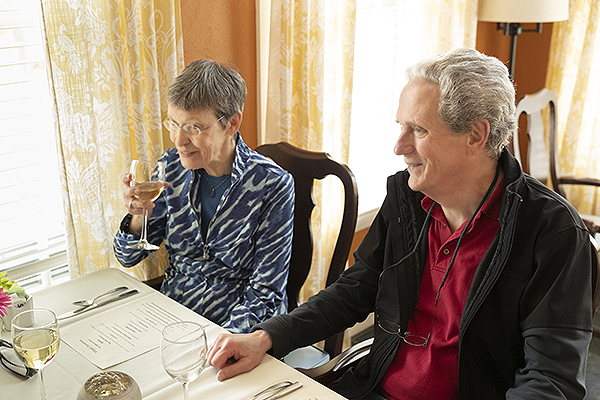 Humans are extremely social beings! Maintaining relationships is essential in life regardless of age, but the positive benefits of socialization for seniors cannot be overlooked. Frequent social interactions can help keep older adults emotionally, mentally and physically healthy and can even serve as a buffer for some of life's more challenging events, making us feel less alone. 
July is Social Wellness Month – a time to make connections a priority and focus on nurturing your relationships! To reiterate the importance of social support as we age, we're highlighting some of the astounding benefits of socialization for seniors.
1. Improved Mental Health
Seniors can be susceptible to mental health issues like depression and anxiety – isolation, loneliness, illnesses, and other factors that come with aging can lead to poor mental health over time. Socialization has been proven as one of the most effective ways to boost mental health and improve your overall outlook on life! In a study done by the American Public Health Association, it was found that regular socializing has been proven to improve mood, memory recall, and encourage healthy behaviors like exercise. This brings us to our next important social wellness benefit!
2. Increased Exercise
In addition to the study by the American Public Health Association, research from Harvard University has shown that seniors who socialize regularly, especially with those outside of their immediate family, are more likely to exercise. Frequent exercise can improve brain function and sleep, boost confidence, and increase mobility, in addition to simply making you feel great!
3. Less Stress
Stress can be caused by many factors in life and, as we get older, situations such as health scares and mobility issues can seriously increase our stress levels. Having a support system in your community – friends, family, or even neighbors – can lower stress levels and ultimately help to prevent some of the damaging effects it can have.
4. Improved Cognitive Function
Simply put, socialization keeps you sharp! There is no better feeling than sharing a story, piece of learned information, or a perfectly-timed joke with another person. Spending time with others helps to keep our brains in tip-top shape, improving memory retention and encouraging us to use our minds more frequently (and in different ways!).
5. Boosted Self-Esteem
Aging can be frustrating at times, which can have a serious impact on a person's confidence. Socialization by way of activities like fitness or art classes, events or even volunteering is extremely beneficial to self-esteem. Not only can positive social interactions make you feel connected to your community, but they also serve as a great reminder that getting older doesn't make you any less of the person you are!
6. Purposeful Living
Regardless of age, having an active social calendar gives us something to look forward to with excitement and anticipation, leading to a more meaningful life. Spending quality time with others is so fulfilling, and having a sense of community and belonging is truly what makes life worth living!
7. Better Quality of Life
All of the benefits we have listed above really amount to one major component: quality of life. The wellness advantages of staying socially active can improve our satisfaction with life, thus making everything else that comes with it – including hardships like health issues or losing loved ones – easier to cope with. 
Cumberland Crossing by OceanView
Active retirement communities like Cumberland Crossing by OceanView offer nearly endless social opportunities, from planned events and resident-organized clubs to a simple morning chat with a neighbor!
Just minutes from the bustling coastal city of Portland, Maine, our community at Cumberland Crossing is truly retirement living for the 21st century! We offer two spacious and customizable cottage floor plans to choose from with an inclusive monthly maintenance fee, allowing you all the enjoyment retirement has to offer without the burden of homeownership.
To learn more or to schedule a tour of our community, please contact us at Cumberland Crossing today!
https://www.cumberlandcrossingrc.com/wp-content/uploads/2022/07/social.jpg
400
600
Callie Walker
https://www.cumberlandcrossingrc.com/wp-content/uploads/2021/05/cumberland-300x116.png
Callie Walker
2022-07-11 17:05:28
2023-06-13 14:25:57
July is Social Wellness Month: 7 Benefits of Socialization for Seniors