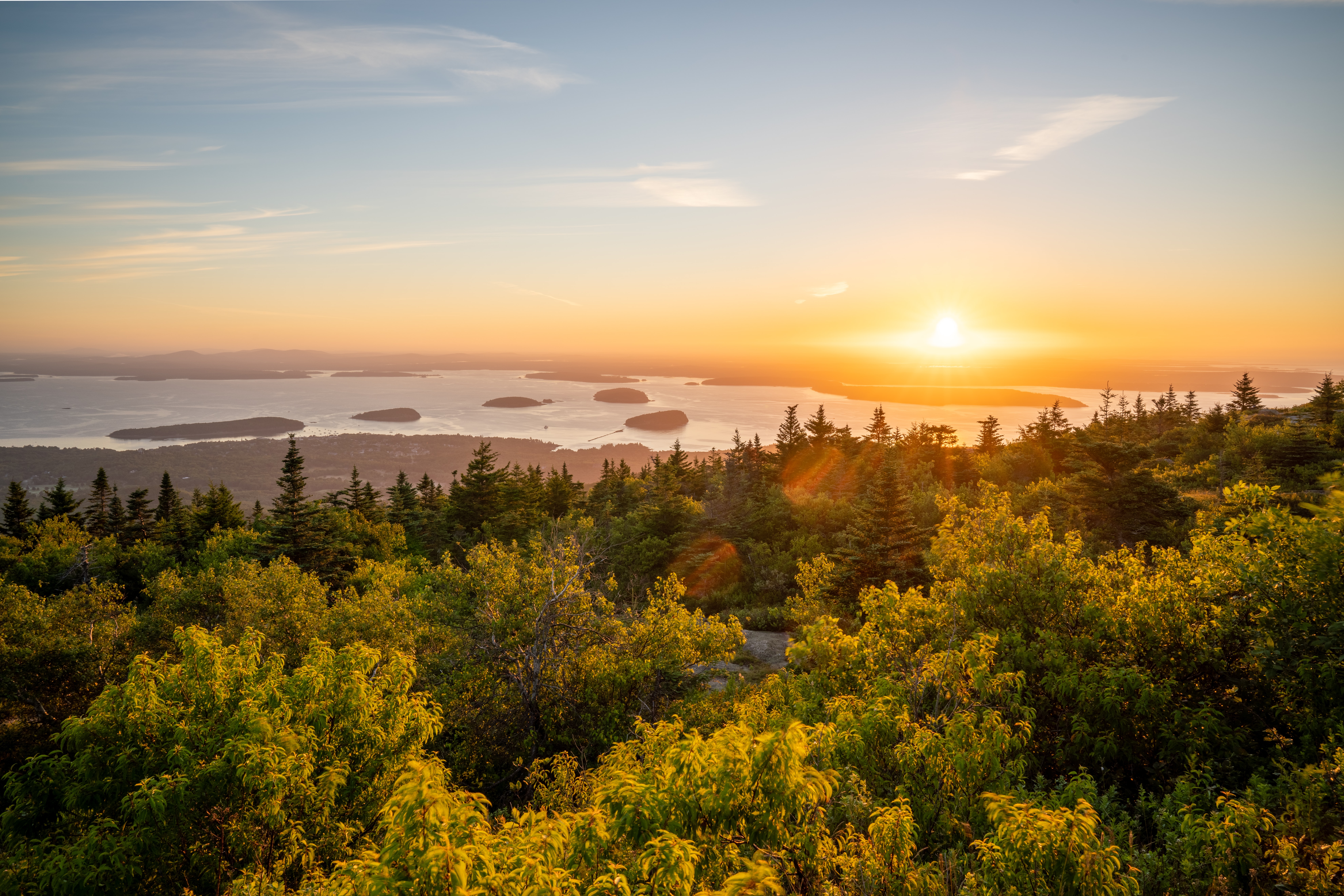 Many visitors come to Maine to experience the natural wonders of our state, and it's no surprise why! From rocky cliffs overlooking the ocean to 4,000 foot mountains with views as far as the eye can see, we truly get to enjoy it all. If you're planning a weekend and looking for the best scenic views in Maine, we have you covered – keep reading for some of our best suggestions in the Pine Tree State!
1. Cadillac Mountain
Cadillac Mountain, located on Mount Desert Island, is the highest peak on the North American coast, making it one of the best places to see the sun rise. This is true not only in Maine, but in the country – from early October through early March, it is the first place the sun rises in the United States!
Cadillac Mountain is one of many beautiful scenic views in the iconic area, which brings us to our next destination…
2. Acadia National Park
Acadia National Park boasts over 47,000 acres of absolutely breathtaking woodland, mountains and rocky beaches along the Atlantic coast, with much of it located on Mount Desert Island. Anywhere you go in Acadia National Park will bring you incredible scenery, but a few of our favorite spots with a view include:
Bar Harbor

Seal Harbor

Beehive Mountain

Thunder Hole

Jordan Pond
Make sure you block at least a full weekend for this adventure, because there is a lot to see in Acadia (and trust us, you don't want to miss any of it!)
3. Portland Head Light & Fort Williams
When considering the best scenic views in Maine, this one should be at the top of your list! Located at Fort Williams in Cape Elizabeth, the historic Portland Head Light is a true beacon of Maine. Sitting on a rocky perch surrounded by the Atlantic, this red and white monument has been a symbol of our beautiful state since the late 1700s. Of course, the lighthouse is stunning in itself, but while you're at Fort Williams be sure to take in the rest of the scenic views, which include historic stone forts and rolling fields of green grass overlooking the sea!
4. Baxter State Park
There is truly no other place like Baxter State Park. With so many beautiful areas to explore, it can keep you busy for a week if you take your time! However, if you prioritize one part of the scenery, make sure it's Katahdin, Maine's highest mountain. At over 5,000 feet, it's the most glorious sight to see from any part of the park. If you're feeling adventurous, you can even hike to the summit, which boasts arguably one of the best views in Maine!
It should be noted that this is also the most challenging hike in the state due to rapid weather changes and elevation, so be sure you are extremely prepared if you decide to commit to the hike!
5. Scarborough Marshes
The best way to experience the scenic beauty of the Scarborough Marsh is by getting up close and personal – rent a canoe or kayak and paddle into this incredible natural wonder. The marshes stretch for more than 3,000 acres, eventually leading to the Atlantic. There is so much to see including egrets and herons, fish of all kinds, and vegetation unique to this ecosystem. With the ocean breeze and sounds of the wildlife, it's a treat for all senses, not just your eyes!
6. Rangeley Lakes National Scenic Byway
The Rangeley Lakes National Scenic Byway is a 35-mile scenic drive along Routes 17 and 4 that boasts several can't-miss scenic points. These include:
Smalls Falls (12 miles south of Rangeley)

Whip Willow Farm Overlook (1 mile south of Rangeley)

Shelton Noyes Overlook (3.5 miles south of Oquossoc)

Height of Land (10 miles south of Oquossoc)
With expansive views, including panoramic views of Rangeley Lake, you'll want to make sure you check each of these stops off your list if you're in the area!
7. Monhegan Island
Located just off the coast of Boothbay Harbor and easily accessible by ferry for a great day trip, little Monhegan Island is chock full of scenic views to enjoy! With 9 miles of hiking trails and the largest ocean cliffs on Maine's coastline, you'll be wanting to stop and enjoy the view with every step you take. There are lovely inns as well if you'd like to stay the night.
Cumberland Crossing at OceanView
Cumberland Crossing by OceanView is an active retirement community centrally located in Southern Maine. With two spacious, solar-powered and customizable cottages to choose from – plus an inclusive monthly maintenance fee that takes the stress out of homeownership – this is truly active retirement living for the 21st century. Spend your hard-earned retirement years doing what you love!
To learn more about our community at Cumberland Crossing, please contact us today!
https://www.cumberlandcrossingrc.com/wp-content/uploads/2021/08/ran-ding-QgrQVM3A04A-unsplash.jpg
5286
7925
Callie Walker
https://www.cumberlandcrossingrc.com/wp-content/uploads/2021/05/cumberland-300x116.png
Callie Walker
2021-08-12 17:37:26
2021-08-12 17:37:26
Best Scenic Views in Maine