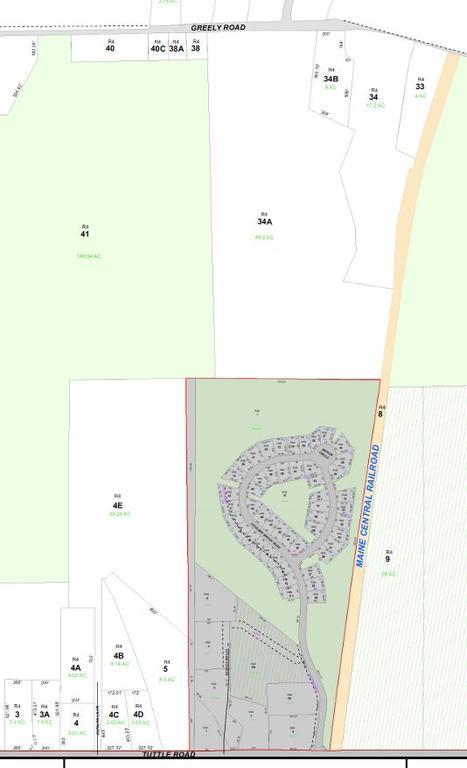 CUMBERLAND — The Planning Board on Saturday, Nov. 4, will host a site walk for a senior housing development proposed for Tuttle Road, across the street from Town Hall.
The developer of the OceanView at Falmouth retirement community proposes up to 50 cottage homes in the first of a two-phase project called OceanView at Cumberland. The Planning Board reviewed a sketch plan Oct. 17; the product is scheduled to return to the panel for site plan approval in December.
The site walk will be held at 8 a.m. and cover lots 4B, 4D and 4E on tax map R04 – just north of the intersection of Tuttle Road and Maurice Way. Tax maps can be found at cumberlandmaine.com/planning/pages/tax-maps.
OceanView has an option to purchase 41 acres from Richard Doane. It would develop 35 acres at the rear of the property in the first project phase. The second phase could comprise the nearby Godsoe Trust property, for which OceanView also has an option, and which has frontage on Greely Road.
The connection would be made through a small corner of the Val Halla golf course after a land swap with the town. It would have no impact on the Crossing Brook subdivision, which is adjacent to the southeast of the Doane and Godsoe properties, according to Chris Wasileski, OceanView's development project manager.
In the second phase, "we could potentially add another 40-50 homes … depending on site conditions and wetlands," Wasileski said Oct. 26.
The first phase would consist of two neighborhoods, accessed via a private road that would reach about 1,500 feet from Tuttle Road to the first neighborhood, which would have 18 units. The second would have 32.
The property has access to natural gas, and public sewer and water.
OceanView sees the Cumberland development "as a great opportunity, based on the proximity to some of the amenities," Wasileski said, referring to the Twin Brook Recreation Area, the Val Halla golf course, and the many trails in the area.
"The town of Cumberland has been generally supportive of the project, which is always fantastic," Wasileski said.
Similar to the Falmouth development, the Cumberland cottages would follow a returnable entrance fee model, he said.
"There is a price point set for the cottage … which is 100 percent refundable to the resident, who buys essentially a share in the project," Wasileski explained. "That is regardless of appreciation or depreciation of the land value."
In other words, he said, the money a resident pays to live there will be returned when they leave. Market conditions do not apply.
Price points for the cottages, which would have landscaping and garages for at least one car, could be around $425,000, he said. There would also be monthly fees for cottage maintenance and services.
https://www.cumberlandcrossingrc.com/wp-content/uploads/2017/10/f-n-cumberland-oceanview-site-walk-tax-map-110217-e1581383218946.jpg
467
768
Neil Arnold
https://www.cumberlandcrossingrc.com/wp-content/uploads/2021/05/cumberland-300x116.png
Neil Arnold
2017-10-30 13:20:08
2023-06-13 13:40:08
OceanView Proposes Cumberland Senior Housing Development