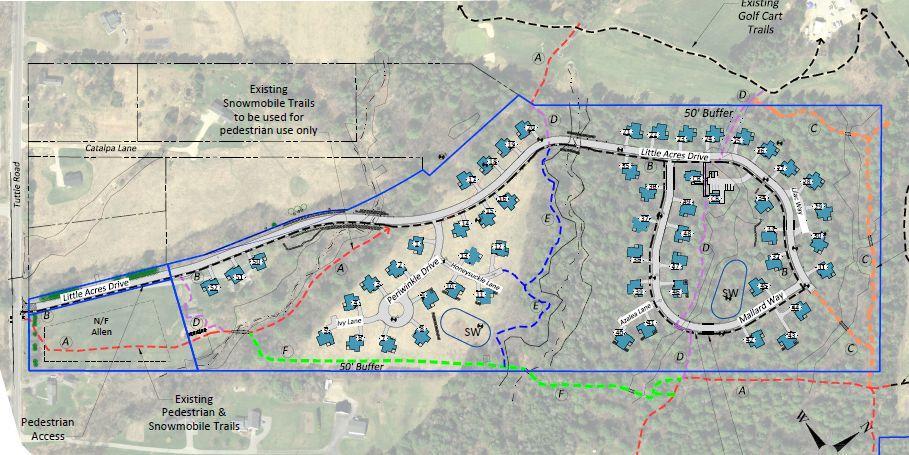 CUMBERLAND — Construction of a 52-unit senior housing development will begin this fall.
Cumberland Crossing by OceanView will be built at 277 Tuttle Road, almost across the street from Town Hall, and could be complete by 2021. The Planning Board approved the project Aug. 14.
The complex for residents 55 and older will be a sister development to the OceanView at Falmouth retirement community. Chris Wasileski, OceanView's development project manager, said the Cumberland site caught his company's eye because it is only 5.6 miles north of the original OceanView, and has connectivity to town trails, the Val Halla Golf & Recreation Center and Twin Brook Recreation Area.
The approximately 37-acre property is composed of parcels OceanView purchased from Richard Doane and Laurence Allen, who plan to continue living nearby, Wasileski said. OceanView will move Allen's house from 277 Tuttle Road and is building Allen a new home closer to Tuttle Road, Wasileski said.
In place of Allen's home will be cottages 50-52 – the final three to be built. OceanView is saving those for last in order to provide time for the house to be moved.
"If anybody wants to take the home, our attitude is rather than wasting money on demolition fees and hauling off a perfectly good house, we're going to offer it to people at their cost" for free, as long as they have the necessary qualifications and insurance to move it, Wasileski said Aug. 23.
Cumberland Crossing's main road, Little Acres Drive, will be expanded from Allen's driveway and extend about 1,500 feet from Tuttle Road. That road will proceed northeast, crossing a stream to reach cottages 1-20, the project's first phase. The final 29 cottages, along with a community building, will be constructed across another stream, near the golf course.
"Depending on market absorption rates, and how well our reservation process and our building process go, we may combine phases," Wasileski said. "It may happen sooner rather than later. We just have a conservative estimate of three years for a full build-out."
Road and utility work will soon begin, and the first 20 cottages are expected to be complete next year. OceanView is accepting reservations for people who want to live there; those interested can call Gloria Walker, OceanView's marketing and sales director, at 781-4460.
About 78 percent of the property will remain open space, according to an Aug. 15 Planning Board memo. Trails on the property will provide connectivity between the Town Forest, across Tuttle Road, to Val Halla. OceanView could, in the coming years, also explore partnering with the town to connect to Twin Brook.
Wasileski praised the town as being "great to work with."
OceanView has reached an agreement with the neighbors on road locations, trees and other bufferings, and the neighborhood designs, Wasileski said.
"There was no public comment (at last week's meeting), because we worked out all of our internal issues and creative ideas with the neighbors," he added.
The property has access to natural gas, and public sewer and water. The pet-friendly cottages will be equipped with generators and grid-tied solar power, and come with landscaping and garages.
Similar to the Falmouth development, the Cumberland cottages – which could have a price point of $500,000 and up – would follow a returnable entrance fee model.
"There is a price point set for the cottage … which is 100 percent refundable to the resident, who buys essentially a share in the project," Wasileski said last October. "That is regardless of appreciation or depreciation of the land value."
In other words, the money a resident pays to live there will be returned when they leave. Market conditions do not apply.
https://www.cumberlandcrossingrc.com/wp-content/uploads/2018/09/f-n-cumberland-oceanview-ground-view-083018.jpg
523
1024
Neil Arnold
https://www.cumberlandcrossingrc.com/wp-content/uploads/2021/05/cumberland-300x116.png
Neil Arnold
2018-08-27 13:16:16
2023-06-13 13:40:17
Cumberland Senior Housing Project to Launch This Fall