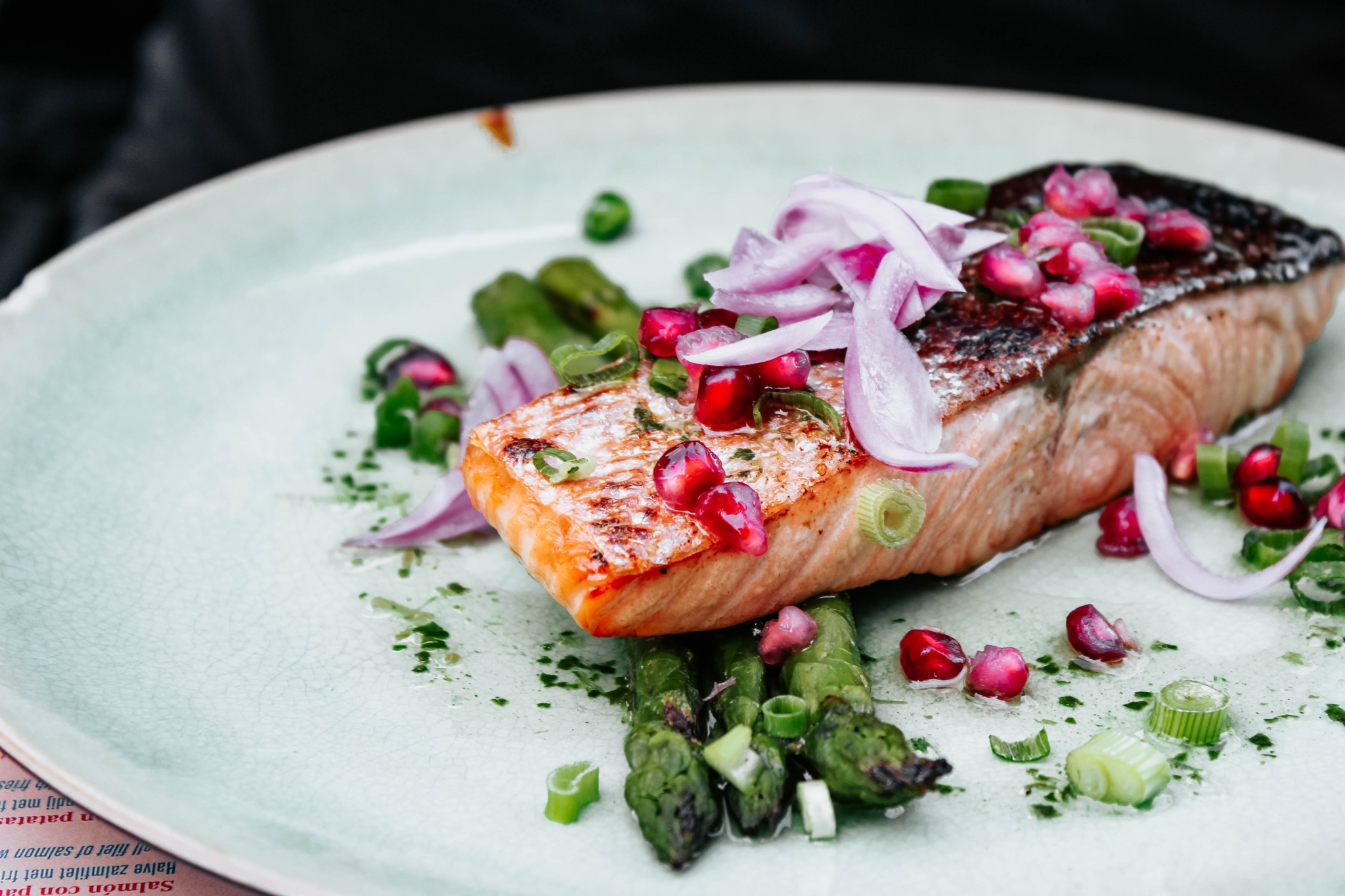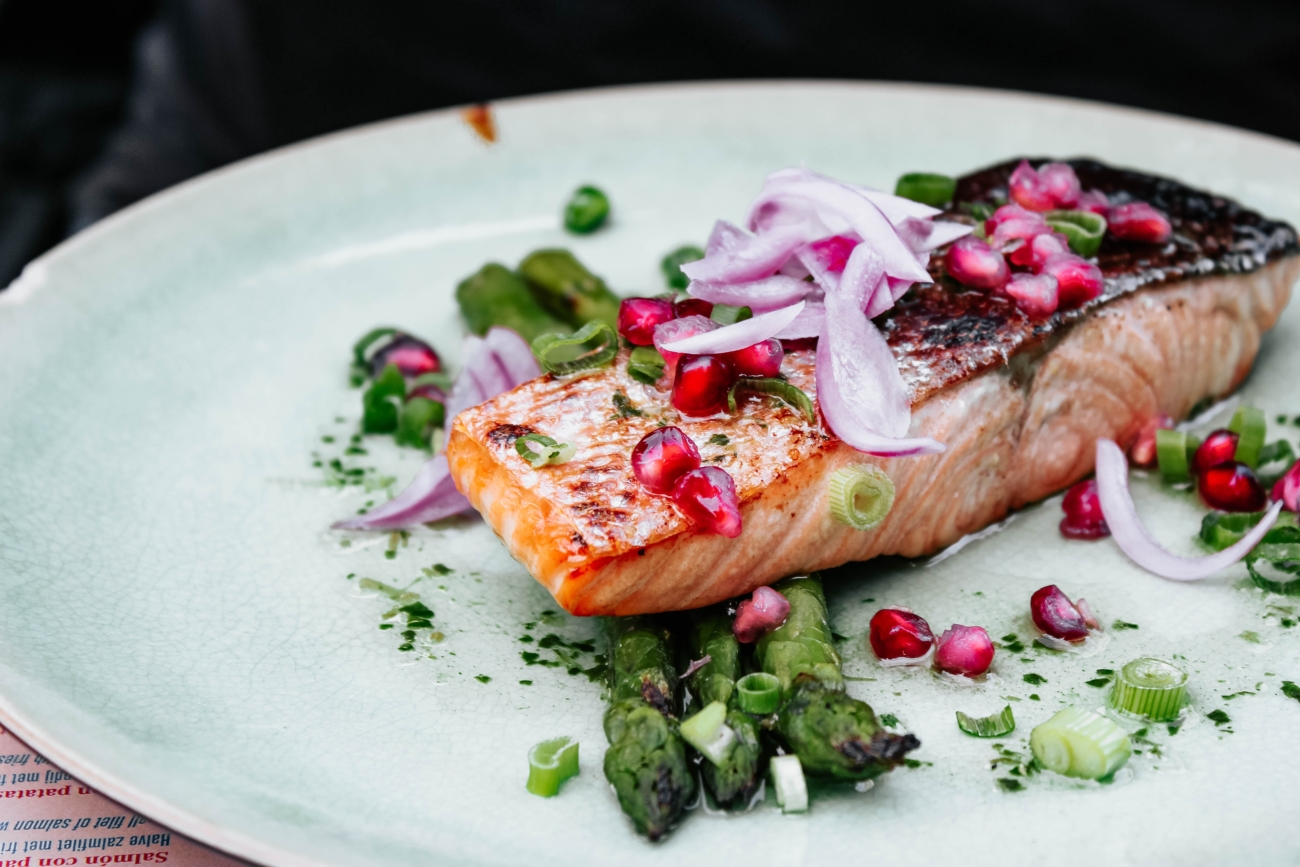 Heart disease is the leading cause of death in the U.S., with seniors over the age of 65 more susceptible to heart attacks, strokes or coronary heart disease. According to the CDC, 1 in 4 deaths is caused by heart disease. Even though the numbers are unsettling, the good news is that there are many ways you can take action to help reduce your risk for heart disease by way of exercise, lifestyle changes, and of course, diet. It's easier than you may think to take control and boost your heart health! To get you started, here are some delicious and easy heart-healthy meals for seniors to try.
10 Heart-Healthy Diet Recipes for Seniors
Heart-healthy meals for seniors don't have to be bland – in fact, quite the opposite! These mouthwatering recipes are chock full of vegetables, healthy fats, protein and whole grains, and they taste so good you won't even realize you're boosting your heart health. Happy cooking!
1. Miso-Maple Salmon
This isn't your average salmon recipe! Heart-healthy salmon is marinated in maple syrup and white miso paste, which offers an incredible sweet-savory flavor that you will love. Make this the main star of your lunch or dinner, or add leftover salmon to any salad for a delicious boost!
Get the recipe here: Eating Well
2. Savory Oatmeal with Sun-Dried Tomatoes and Mushrooms
Oatmeal is often eaten as a sweeter breakfast dish, but prepare to fall head over heels for this savory version! Oats are known for regulating cholesterol benefits while filling you up. With ingredients like cottage cheese, Parmesan, and vegetables like mushrooms, avocados, and sun-dried tomatoes, you may never go back to making oatmeal the old-fashioned way.
Get the recipe here: Self
3. Slow-Cooker Ribollita
This classic Tuscan soup is the perfect way to clean out your produce drawer while packing a heart-healthy punch! If you can believe it, Ribollita includes more than 10 cups of vegetables, in addition to fibrous beans and fresh, flavorful herbs.
This recipe makes 10 servings, but don't worry – even if you're not hosting a full dinner party, it freezes well so you can have it on hand any time you're feeling like a warm, soothing and nutrient-rich meal.
Get the recipe here: Better Homes & Gardens
4. Tangy Mixed Bean Salad
Beans offer a mind-boggling array of health benefits. Studies show that eating beans regularly may help decrease the risk of certain cancers, diabetes, and – you guessed it – heart disease! Not only are they healthy and delicious, they are also extremely versatile and affordable, so you can mix them into your diet as much as you want! This recipe takes canned beans combined with fiber-rich chickpeas and lentils for a perfect side salad or heart-healthy lunch.
Get the recipe here: Salads For Lunch
5. Strawberry Spinach Salad with Avocado & Walnuts
This salad is the perfect addition to any summer meal, especially if you're grilling or attending a backyard bash. Rich in healthy vitamins and minerals and all-around heart healthy, top this salad for roasted salmon or grilled chicken to add an extra boost of protein.
Get the recipe here: Eating Well
6. Escarole and Bean Soup
This quick (less than 30 minutes) and easy-to-make soup packs so much delicious flavor! A simple combination of chicken stock, beans, and wilted greens is elevated with garlic and fresh Parmesan cheese. It's surprisingly filling and chock full of nutrients!
Get the recipe here: Food Network
7. Chopped Greek Salad with Pistachios and Goat Cheese
Greek salads are a fresh, flavorful and healthy option for any meal, but this recipe takes it up a notch! This chopped version has all the classic Greek salad ingredients you'd anticipate, like tomatoes, olives and cucumbers. What really brings out the flavors are the extras – artichoke hearts, pistachios, and goat cheese. It's perfect for a lunch, dinner side, or even as a potluck dish for a party!
Get the recipe here: Self
8. Red Wine Glazed Chicken
A simple glazed chicken made with red wine is not only elegant, comforting and delicious – it's also a surprisingly heart-healthy option! The mouthwatering sauce is made with garlic, brown sugar, paprika, and of course red wine. It's a breeze to pull together and is sure to wow whoever you are hosting for dinner, even if it's just yourself!
Get the recipe here: AllRecipes
9. Loaded Black Bean Nacho Soup
This is one of the easiest heart-healthy meals for seniors! Simply take a can of black bean soup as your base and jazz it up with all your favorite nacho toppings. It could include cheese, fresh tomatoes, avocado, cilantro – whatever your heart desires. Mixing in chili powder or cumin is a great way to add depth without adding sodium!
Get the recipe here: Eating Well
10. Grilled Pork with Apple and Grape Bowls
Did you know that a lean pork tenderloin has less cholesterol than many other more notorious heart-healthy meats, such as lamb, beef sirloin, shrimp and even skinless chicken? This recipe pairs juicy grilled pork tenderloin with grilled apples and onions, quinoa (added protein!) and fresh, zesty arugula topped with a mouthwatering vinaigrette. 
Get the recipe here: Better Homes & Gardens
Cumberland Crossing by OceanView
Come enjoy the most idyllic retirement living Maine has to offer! Located in picturesque southern Maine, Cumberland Crossing by OceanView is truly retirement for the 21st century. We offer two spacious, customizable cottage floor plans with a manageable monthly fee – this includes many convenient services, including health care management and priority access to assisted living or memory care.
Leave behind the burden of homeownership and simply enjoy peace of mind for your future! Contact us at Cumberland Crossing today to schedule a tour.
https://www.cumberlandcrossingrc.com/wp-content/uploads/2023/05/micheile-henderson-t05q7TZObzc-unsplash-scaled.jpg
1707
2560
Callie Walker
https://www.cumberlandcrossingrc.com/wp-content/uploads/2021/05/cumberland-300x116.png
Callie Walker
2023-05-06 11:05:10
2023-06-13 14:27:07
10 Heart-Healthy Recipes for Seniors