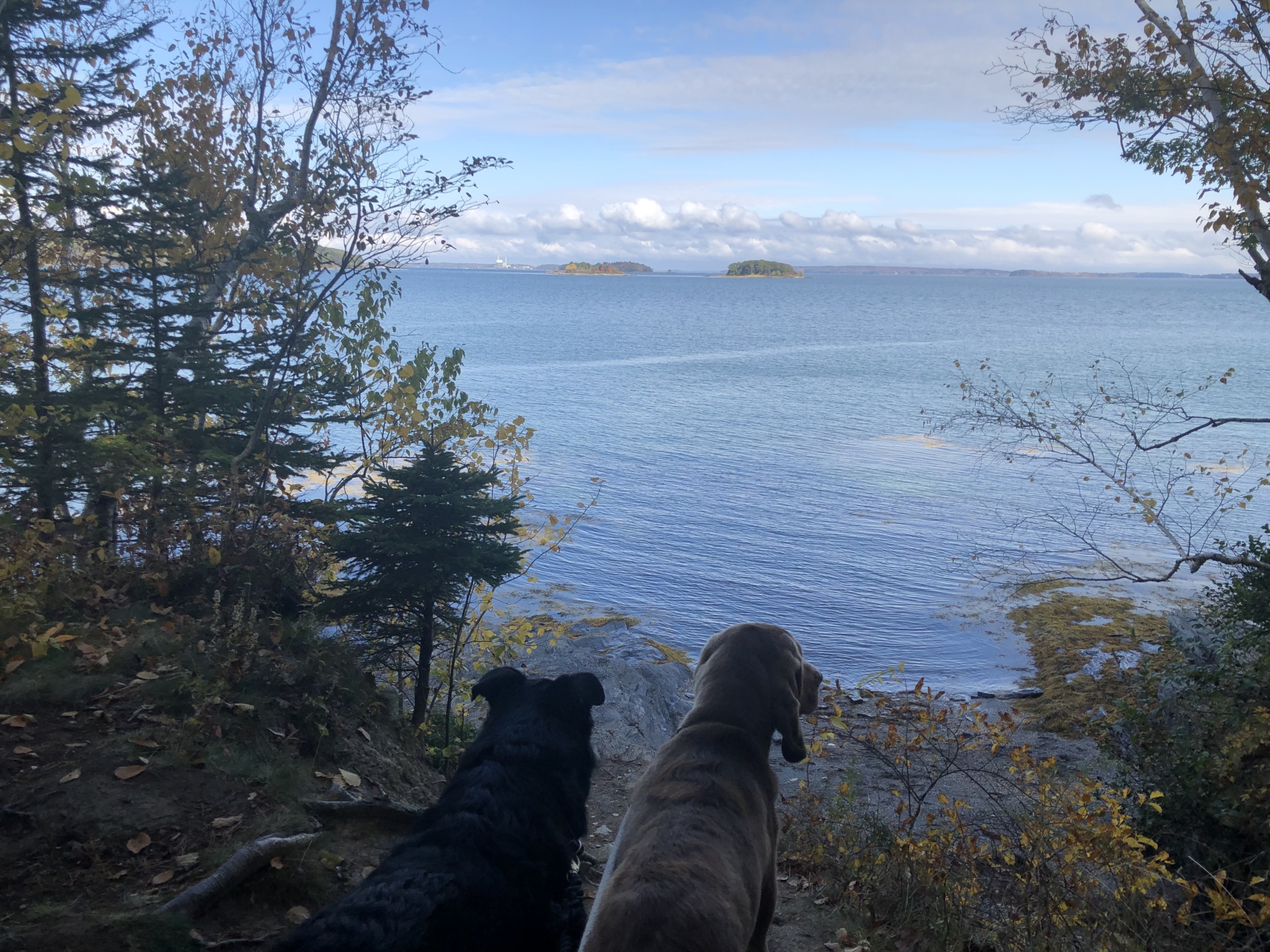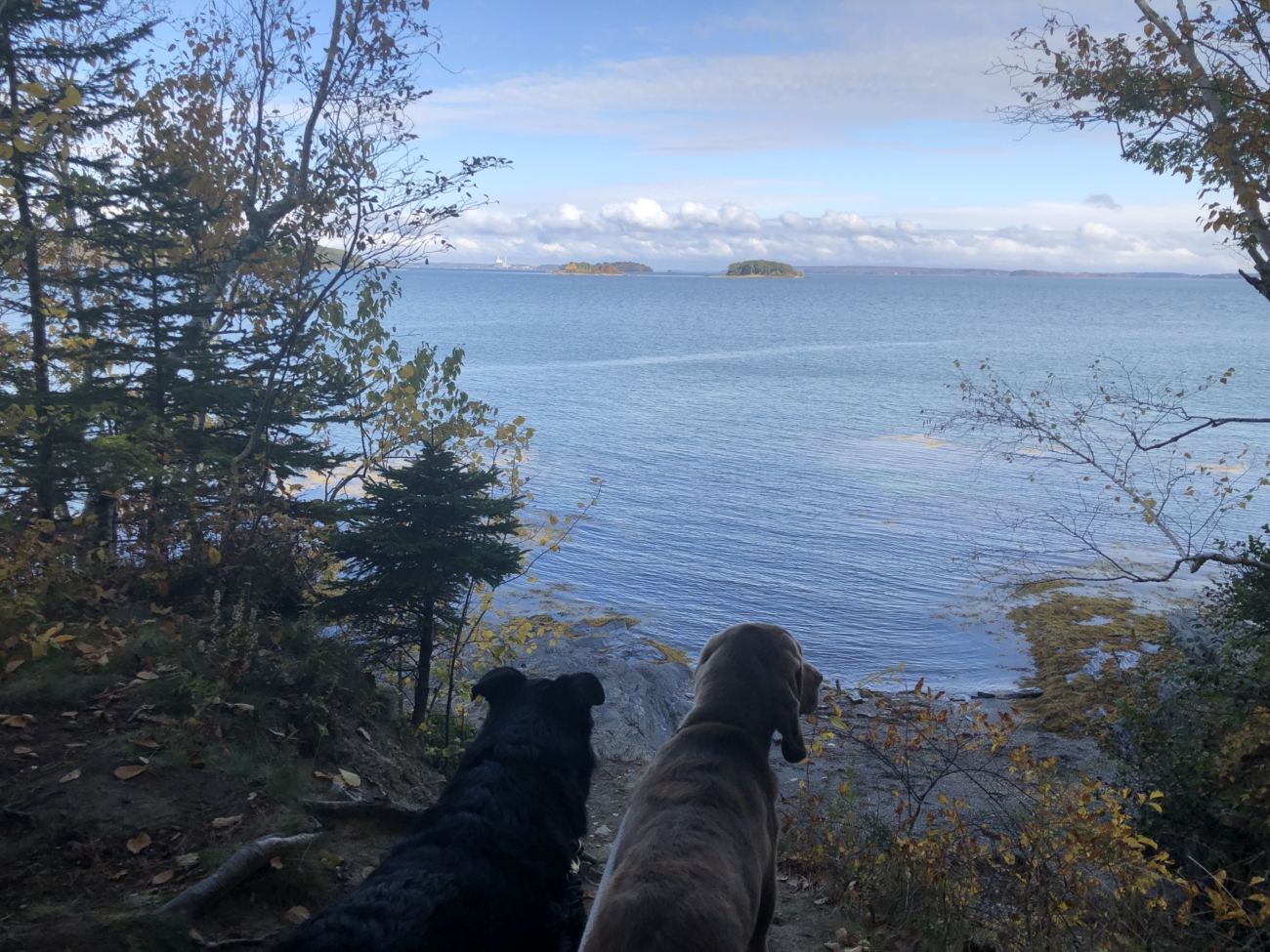 Mackworth Island State Park is a gem of the Casco Bay area. An island of about 100 acres, accessible by a causeway to the mainland, there are 360-degree scenic views of the ocean and Portland's skyline, and so much to be enjoyed on this little piece of preserved land. At Cumberland Crossing by OceanView, we feel extremely fortunate to be just a few miles drive to Mackworth Island because we know how special this island truly is! 
Here are 4 reasons you should schedule a trip to Mackworth Island soon:
1. Unbeatable Scenic Views
First and foremost, the view is stunning. Take this 1.25 mile scenic walking path around the entirety of the island for sweeping ocean views – it only takes about an hour at a leisurely pace! From the shore you can see several of Casco Bay's iconic islands, including Great Diamond, Little Chebeague and Long Island.
Watch the boats cruise by through the harbor, admire the rocky coast, enjoy the Portland skyline, and listen to the gulls calling overhead. You'll feel as if you're in a world far, far away (when you're only a stone's throw from the city!) There is a very small fee to park.
2. Rich Local History
Did you know Mackworth Island is home to the Real School and Baxter School for the Deaf? In 1885, the island was purchased by James Baxter with the intent to build a large summer cottage. In 1946, Governor Percival Baxter, who was an avid animal lover, decided he wanted to use his island for state public purposes and to serve as a sanctuary for birds and animals. The island was deeded as such and the Governor Baxter School for the Deaf was founded in 1957.
There are also remnants from the Civil War era, when soldiers were stationed on the island, then known as Camp Berry. Keep an eye out for the granite pier about halfway from the parking lot!
3. Safe and Accessible
The loop trail at Mackworth Island has a firm, mostly level surface for easy walking and no barriers. The trail is wheelchair accessible and has many benches placed along the trail for visitors to stop and relax (with a view, of course!) The trail is maintained by the Maine Bureau of Parks and Lands, so it is well-kept year-round when the park is open. There are some smaller side trails that lead to steep slopes which bring you down to the water, so keep in mind these may not be accessible to all visitors.
Because of its safe trails, Mackworth Island is a great place to bring the grandkids, too! Keep an eye out for the island's "fairy village," which is a collection of tiny houses made from natural materials for the island's magical creatures to call home. 
Another bonus? Mackworth is dog-friendly as long as your furry pals are kept on a leash!
4. Unique, Bustling Wildlife
Mackworth Island serves as an important natural resource for coastal wildlife, classified by the Maine Department of Inland Fishery and Wildlife as an "A" region. 
Mackworth Island State Park is full of local wildlife due to its mixed-growth forest and location at the mouth of the Presumpscot River. As a legally-declared bird sanctuary, you can expect to see a wide variety of birds including turkeys, warblers, ruffed grouse, and thrushes in addition to racoons, hares, foxes, skunks and squirrels. You can often find visitors fishing for mackerel or striped bass from the end of the pier. There is even a small pond on the island that's one of the only paces in the state where you can find Columbia Watermeal, Maine's smallest flowering plant!
Cumberland Crossing by OceanView
When you retire in Maine, you want to be able to enjoy all the natural beauty that comes with our wonderful state. Cumberland Crossing by OceanView is centrally located in the Cumberland Foreside area, close to not only Portland's vibrant culture, but also countless nature trails, hikes and preserved land such as Mackworth Island State Park. 
Our community at Cumberland Crossing is truly maintenance-free living for the 21st century! With two solar-friendly, spacious floor plans to choose from, you can customize with whatever options you need or want for your cottage. Our staff takes care of any landscaping, gardening, indoor and outdoor maintenance you need them to do – we want to help you focus on enjoying your active retirement years to the fullest, whatever that may mean for you! 
To learn more about the active senior living we offer at Cumberland Crossing by OceanView, please contact us today!
https://www.cumberlandcrossingrc.com/wp-content/uploads/2021/04/IMG_1971-scaled.jpg
1920
2560
Callie Walker
https://www.cumberlandcrossingrc.com/wp-content/uploads/2021/05/cumberland-300x116.png
Callie Walker
2021-04-06 22:10:45
2023-06-13 14:17:16
4 Reasons to Visit Mackworth Island State Park