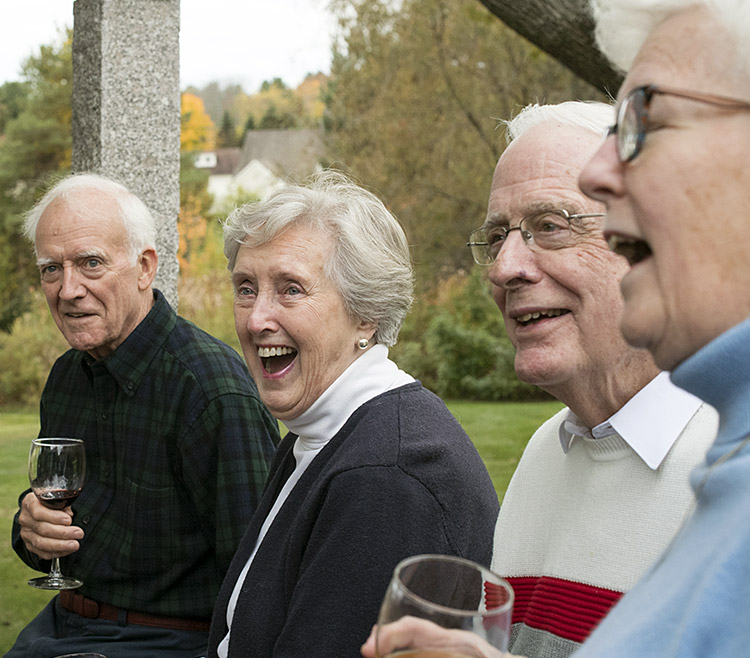 Compared to older adults that choose to stay in their homes, seniors that decide to move to an independent living community have more opportunities to stay healthy – physically, mentally and emotionally! While you may have questions about what to expect from active retirement community living, know that moving to one can provide you with the following advantages to help boost your overall well-being:
1. Fitness & Wellness Programs
Physical activity has been known to help reduce stress, lower your risk of depression, manage weight, regulate your blood pressure, improve sleep…the list goes on! From water aerobics, strength training, yoga classes, or even a club like Cumberland Crossing's Golf FORE Life program, exercise at an active retirement community is not only accessible and convenient –  it's fun! Fitness classes are also a wonderful way to schedule socialization and get to know your community better, which brings us to the next health advantage.
2. Ample Social Activities
Residents who live in independent living communities have nearly endless opportunities for engaging, social interaction. You are likely to find a monthly calendar packed to the brim with upcoming events and exciting activities to try. Whether you're rediscovering an old passion or picking up a new hobby, there is truly no shortage of fun to be had. This is important because the sense of community that's associated with meaningful socialization has a huge impact on a person's quality of life! In fact, this connection is one of the greatest benefits about active retirement community living.
3. Healthier Dining Opportunities
When it comes down to it, what we eat plays a major role in how we feel – this is especially true as we age! Eating wholesome and well-balanced meals helps us thrive, and there is no better place to find consistent, healthy foods than within an active retirement community. With an emphasis on nutrition and quality, many dining options are prepared by trained chefs that know great-tasting food can also be great for you!
One of the advantages of retirement is that you have much more free time to enjoy yourself, so if you love to cook, now is the perfect time! Treating yourself to regular outings to the farmers' market or trying healthy new recipes are excellent ways to hone your cooking skills while eating well.
4. Lifelong Learning Courses
Once you reach retirement, in many ways your life is truly just beginning to unfold! Having the freedom and flexibility to continue strengthening your skills and keeping your mind sharp is a true gift and one that should be taken advantage of. After all, brain health is just as essential as physical health!
At Cumberland Crossing, we are centrally located to USM's Senior College's Osher Lifelong Learning Institute (OLLI), which is a very popular local continued education option! No college background or other entrance requirements are needed – choose from a wide array of peer-taught science or liberal arts courses. 
You can also try continued education by way of online courses, which offer unique courses across every field of study you could think of from esteemed universities including Harvard, Yale and Stanford. The best part is, many of these courses are free to take!
5. Easy Access to Healthcare
This is the most obvious benefit, but no less important than the rest! When you live in an active retirement community, you have the convenience of immediate access to healthcare services. Knowing that healthcare is easily available if you need it can give you peace of mind – worry less and live your life to the fullest!
Residents at Cumberland Crossing have access to an onsite wellness office, complete with a Registered Nurse on call and a complimentary annual health review.
Cumberland Crossing by OceanView
Located in beautiful Cumberland, Maine, Cumberland Crossing by OceanView is active retirement community living for the 21st century! We offer two spacious, customizable cottage floor plans with 24/7 maintenance, so you can worry less about the burdens of homeownership and instead focus on your wellbeing. Whatever your passions or goals in life may be, taking advantage of the wonderful opportunities provided by independent living can help you get there!
To learn more about our community at Cumberland Crossing, please contact us today.
https://www.cumberlandcrossingrc.com/wp-content/uploads/2022/03/schedule_visit2.jpg
658
750
Callie Walker
https://www.cumberlandcrossingrc.com/wp-content/uploads/2021/05/cumberland-300x116.png
Callie Walker
2022-03-21 17:24:29
2023-06-13 14:21:53
5 Health Advantages of Living in an Active Retirement Community