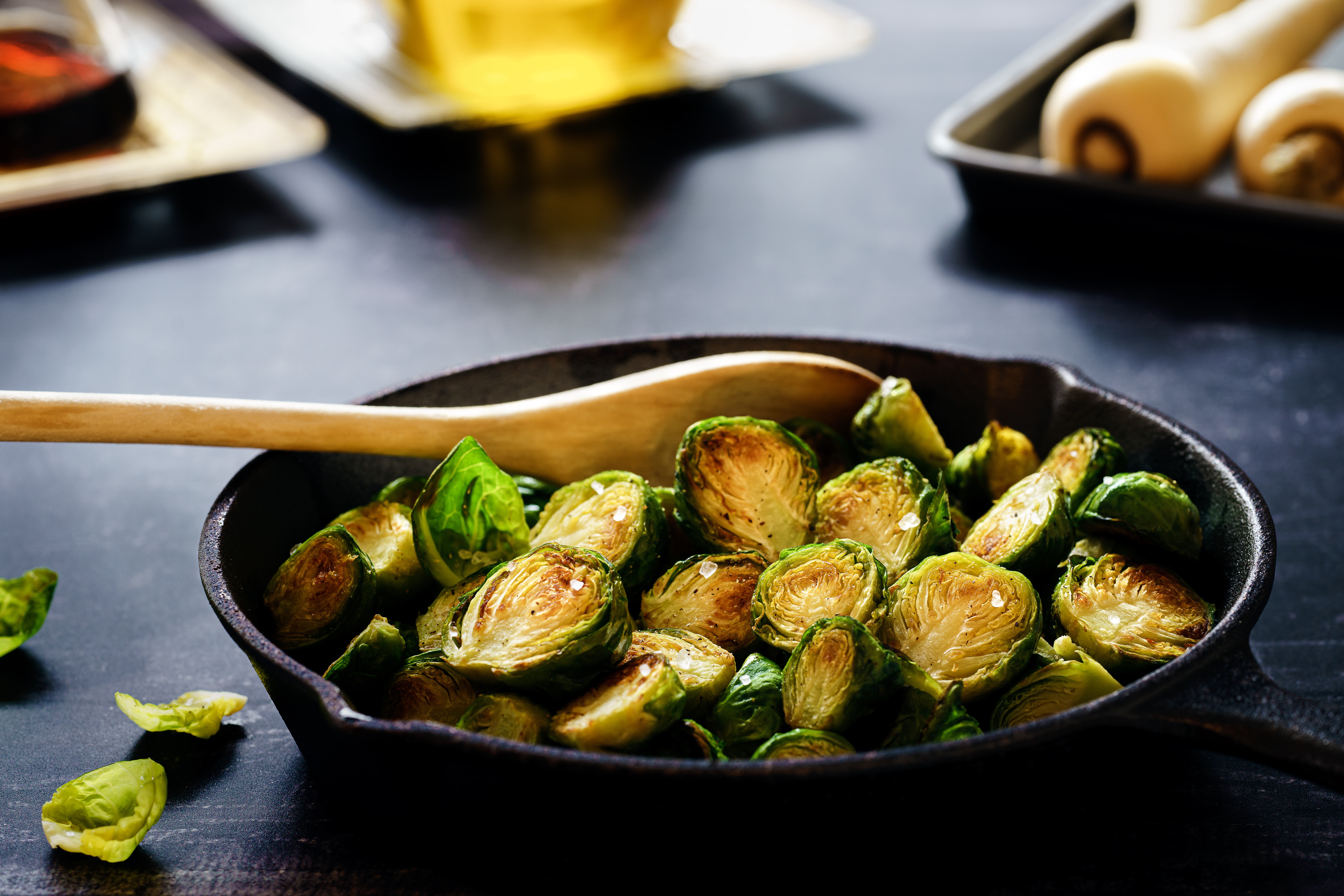 With the chillier weather comes a wonderful abundance of winter produce that, when prepared properly, is hearty, nutritious and is sure to warm you from the inside out! Eating seasonally is important, not only to your diet but to your community. By eating local, seasonal produce, you are giving jobs to local farmers while sustaining your body with nutritious whole foods. Try some of our favorite winter produce recipes below!
1. Roasted Brussels Sprouts with Bacon
Everything's better with bacon! Brussels Sprouts are not only delicious when cooked a number of ways – they are also low in carbs and calories while high in fiber and minerals! Adding bacon to this easy roasted dish adds a salty, umami flavor and texture that is sure to please a crowd. Try it as a side dish for the holidays this year!
To view the recipe, please click here: Cafe Delites
2. Curried Winter Squash Soup
This recipe is quick, easy, and a perfect soul-warming meal on a chilly day. Butternut squash, now used in dishes around the globe, has been around since the 15th century and is well-known for its health benefits. Packed full of copper, manganese, potassium, fiber, vitamins A, C, Bs and K, you're getting a full range of good-for-you nutrients. Adding in curry for a little spice makes this dish unique yet versatile!
To view the recipe, please click here: Minimalist Baker
3. Butternut Squash and Spinach Lasagna
It's hard to think of a meal more hearty and warming than lasagna, and this vegetable-based spin on a classic ensures you're getting all the health benefits alongside incredible flavor! Stuffed to the brim with rich butternut squash, ricotta, mozzarella and parmesan cheese, this is the ultimate comfort food! This dish is a great option for a main dish – it's meatless and can also be gluten-free with substitutions.
To view the recipe, please click here: Julia's Album
Wine-Glazed Winter Vegetables and Lentils
Lentils are packed with fiber and potassium, making them excellent for heart health – not to mention extremely versatile and delicious! When combined with in-season veggies such as carrots and sweet potatoes, glazed in red wine, you get a stick-to-your-belly stew that will warm you from head to toe!
To view the recipe, please click here: Life Current
5. Mushroom Pot Pie
A vegetarian take on the classic chicken pot pie, we promise you won't even miss the meat with this incredibly satisfying dish! Rich, creamy and topped with flaky pastry crust, this option is perfect if you're looking to mix in more nutrition. Mushrooms pack a huge nutritional punch – they are loaded with health-boosting vitamins and antioxidants that can help boost your immune system, support weight loss, and lower blood pressure.
Baked in single-serve ramekins, this dish is ideal for the nights when you don't feel like preparing a huge meal – it's also a fun option for hosting guests!
To view the recipe, please click here: Savory Simple
6. Warm Farro Salad with Roasted Winter Vegetables
Farro, an ancient grain in the wheat family, is very similar to barley – it has a nutty flavor and slightly chewy texture, making it versatile for a huge variety of seasonal dishes. Farro also has a ton of fiber and protein, making it a healthy, delicious choice for your next meal! This warm farro salad combines simple roasted root vegetables with lemon, rosemary and goat cheese for explosive flavor. While the recipe calls for carrots, red onion and butternut squash, you could also try adding in sweet potatoes, beets or turnips for extra health (and flavor) benefits!
To view the recipe, please click here: Dietician Debbie Dishes
Cumberland Crossing by OceanView
Our active retirement at Cumberland Crossing is truly retirement for the 21st century! With two solar-powered, customizable cottage floor plans to choose from and an inclusive monthly maintenance fee, you can enjoy all the benefits of home without the stress of upkeep. Spend your hard-earned retirement years doing what you love!
To learn more about our active retirement community at Cumberland Crossing, please contact us today!
https://www.cumberlandcrossingrc.com/wp-content/uploads/2021/11/sebastian-coman-photography-RCyXyaim87Y-unsplash.jpg
6336
9504
Callie Walker
https://www.cumberlandcrossingrc.com/wp-content/uploads/2021/05/cumberland-300x116.png
Callie Walker
2021-11-03 14:06:50
2023-06-13 14:19:50
6 Delicious Winter Produce Recipes for You to Try