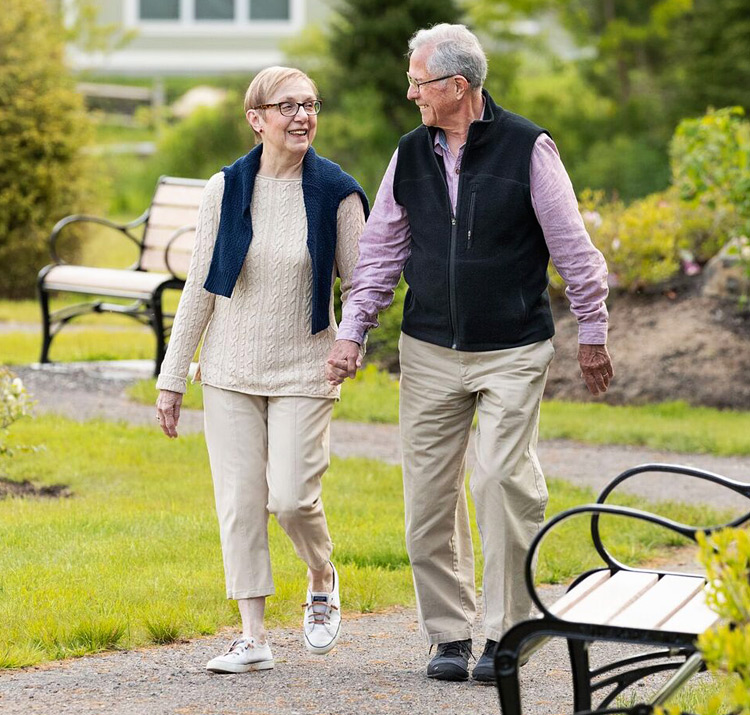 After a lifetime of hard work, retirement is your time to relax, pursue your passions and simply have fun – after all, you've earned it! Moving to an active retirement community can give you the opportunity to enrich your lifestyle while leaving the burden of homeownership in the past. That said, where you retire is an exciting, important decision that shouldn't be taken lightly! The best way to make your decision is to go into the process so you know what to anticipate during this next chapter. Below, we highlight what to know about retirement communities and what to expect when moving to a Maine independent living community.
Moving to an Active Retirement Community: What to Expect
Active retirement communities are intentionally designed to make life for retired seniors relaxing, enjoyable and fun! As you make this transition, consider the following factors:
Opportunity for Downsizing
Selling your home to prepare for a move to a retirement community is a great time to go through many years of accumulated belongings. The idea of downsizing can sometimes feel overwhelming – you may be wondering where to start. Trust us when we say that staying structured is the best thing you can do to ensure your downsizing goes smoothly! Create a plan, go through your belongings to assess what you'll be keeping and what you'll be selling or donating, and recruit loved ones to help. Going into this next chapter decluttered and organized will feel amazing. See our complete downsizing checklist here!
Ample Social Activities
Active retirement communities offer nearly endless social opportunities, including volunteering, day trips, exercise and fitness classes, resident-led clubs, on-site restaurants, movie screenings, and much more. Staying social (not to mention mentally and physically active) is so beneficial for your overall quality of life. This sense of community and connection is one of the best parts about living in a place like Cumberland Crossing!
Healthy Dining Options
When you relocate to an active retirement community, you have easy access to many dining options that offer healthy, high-quality, nutrient-rich foods. What better way to enjoy your retirement than by letting someone else take care of the grocery shopping, cooking and dishes? 
If you're a person who loves to cook, retirement is the perfect time to do so! The freedom you get from an active retirement community gives you plenty of time to visit local farmers markets and co-ops to find the freshest food and try your hand at new recipes.
Fitness & Wellness Programs
Fitness classes are an incredible way to stay fit and healthy, socialize and get to know your community better! When you move to an active retirement community, exercise classes are extremely accessible and convenient with something for everyone!
Cumberland Crossing offers engaging fitness courses like strength training, water aerobics, and yoga classes for every level and interest in our 4-season heated saltwater pool and also at our new, 4,000 sq. ft. state-of-the-art Hager Fitness Pavilion. Love to golf? We also offer a Golf FORE Life program that provides complimentary access to the adjacent 18-hole Val Halla Golf Course & Recreation Center and Falmouth Country Club.
Maintenance-Free Living
Retirement should mean relaxation, pursuing old passions and discovering new hobbies. Why waste these hard-earned years on home maintenance? An active retirement community like Cumberland Crossing at OceanView covers all interior and exterior maintenance under a manageable monthly fee, so you never have to worry about home upkeep again! Leave behind tasks like lawn mowing, landscaping, painting or home repair projects – instead, spend your time doing what you love!
Easy Access to Healthcare
When you live in an active senior living community, you have immediate access to a variety of healthcare services which can give you peace of mind in your retirement years. Residents at Cumberland Crossing have easy access to an onsite wellness office, complete with an on-call Registered Nurse and complimentary annual health review. 
Cumberland Crossing by OceanView
Find the Maine independent living community of your dreams at Cumberland Crossing! Located in picturesque Southern Maine, we offer two customizable, maintenance-free cottage floor plans to choose from. With our unique 100% refundable entrance fee and manageable monthly maintenance fee, leave the stress of homeownership behind and simply enjoy your retirement years!
To learn more about our active retirement community at Cumberland Crossing by OceanView, please contact us today.
https://www.cumberlandcrossingrc.com/wp-content/uploads/2020/12/resolution.jpg
715
750
Callie Walker
https://www.cumberlandcrossingrc.com/wp-content/uploads/2021/05/cumberland-300x116.png
Callie Walker
2022-08-17 16:30:17
2022-08-17 16:30:17
What to Expect When Moving to an Active Retirement Community